Poll results: Anyone planning on buying a smartwatch anytime soon?
12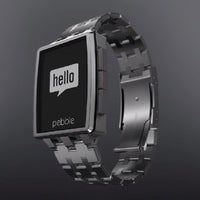 Earlier this week we asked our readers whether or not they were planning on buying themselves a smartwatch anytime soon. Today, it is time to take a look at the results. A total of 1286 people participated in our poll, and almost 10% of them can be considered early adopters of wearable tech as they already own one of them smart timepieces. Furthermore, nearly 12% of those who voted are indeed going to purchase one in the near future.
The fraction of people who aren't yet ready to spend money on a smartwatch, however, is considerably larger. About a third of the participants would not buy a smartwatch until they get better, and we can see why. After all, smartwatches can't really do a whole lot right now. For nearly 17% of those who voted, smartwatches are still too expensive and they won't be buying one until they get cheaper. Interestingly, only about 5.5% are those who are excited about the possibility of Apple launching a smartwatch of its own. That's strange given the assumption that if Apple does release a smartwatch, it would surely be a smartwatch done right. And finally, 273 is the number of voters who don't yet find smartwatches interesting at all.