Poll: do you think smartwatches should be upgraded every year?
27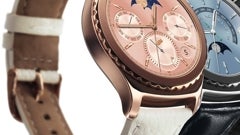 Smartwatches, albeit not an entirely new concept, are still having a hard time finding their place on the market. While they started off as the geek's accessory, looking like small plastic bricks that you wouldn't want to be caught wearing, manufacturers quickly changed gears and decided to sell them as lifestyle accessories and fashion statements. Gold-plated smartwatches that cost more than a second-hand car became reality, and the refresh cycles of the gadgets became a bit confused.
As a contrast, smartphones have worked great at their current 12-month generation cycles. The balance between the current pace of tech evolution and a flagship's price of $650-ish makes the annual refreshes a reasonable thing — you can most certainly be sure that your top-class smartphone will serve you well for 2, 3, or maybe more years, but if you want to always have the bleeding edge of technology in your pocket, you can still upgrade every year at a fairly acceptable cost (considering you sell the 1 year-old device).
With smartwatches, however, the situation is a bit different. Ever since manufacturers chose to sell them as luxury accessories, it became obvious that trying to go for an annual refresh cycle would quickly net them not only losses, but the rage of top-paying customers. After all — imagine buying an Apple Watch Edition for $17,000, and then have it be rendered "yesterday's news" just 12 months after, when the Apple Watch Edition 2 comes out.
So, despite the fact that the Watch is 15 months old by now, Apple is still keeping mum about any sort of hardware update. Instead, Cupertinians worked hard on the
watchOS
, in order to make the gadget more useful, and introduced more watchbands for customization purposes. Samsung, too, markets its
Gear S2
and
Gear S2 Classic
as stylish accessories that also happen to track physical activities, and to vibrate when you receive a text. It, too, has been busy outing new bands, improving the software, and has also introduced two new finishes for the Gear S2 Classic –
Platinum and Rose Gold
. With September approaching, however, we still can't know whether Samsung intends to out a Gear S3 quickly, or if it plans to slow it down a bit, take its time with the new product, while polishing the old one to perfection.
On that note — what would you prefer, when it comest to smartwatches? Keep an annual refresh cycle, so we constantly see a feed of new wrist-wearable tech, or slow it down a bit and focus on the software, only upgrading when the capabilities of the old generation have been fully squeezed out?