Poll: What is your favorite messaging app?
56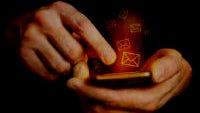 While people may often forget that the smartphones they carry around are still telephones capable of making voice calls to others, people never forget that smartphones are communication devices. It's just that more often, the communication is done through a messaging app, of which there are quite a few that are very popular. So, we want to know: what's your favorite?
Obviously, there are options that are tied directly to the platform you chose for your smartphone, like iMessage and BlackBerry Messenger. There are also the cross-platform crowd, like Google Hangouts, Facebook, WhatsApp, Skype, Viber, and Snapchat. Then, there are the old faithfuls, the traditional services, like SMS and email, that still work very well despite the glut of new competition.
So, what's your favorite messaging app? And, of course, we'd love you to sound off in the comments as to why you prefer what you do.
(Please keep in mind these are opinions, not facts. What you like may be different from someone else, but that doesn't make them wrong.)