Poll: Is the Samsung Galaxy Note5 worth $300 more than the Moto X Pure?
88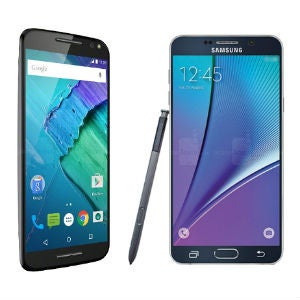 The news just came out that the Moto X Pure Edition has had a number of models sell out via Best Buy. While we're not convinced that is due to high demand rather than low stock, it does beg an important question: are the performance benefits of a flagship like the Samsung Galaxy Note5 worth the price difference between it and the Moto X Pure/Style?
If you're
looking at a spec sheet comparison
, the $699 Samsung Galaxy Note5 definitely has its advantages, including a base model with 32GB of storage and 4GB of RAM, where the $399 base model Moto X Pure has 16GB of storage and 3GB of RAM, although the Moto X does have microSD expansion. The Moto X Pure has more megapixels in its camera (21 vs 16) and dual-flash, but no optical image stabilization; and, while Motorola has been earning buzz for greatly improving its camera, Samsung's cameras have been considered industry leaders in quality along with the iPhone. The differences in size, display, and resolution are negligible on paper. Both also have 3000mAh batteries and Quick Charging, though the Note5 also has wireless charging.
Of course, if you're comparing the screens side-by-side, you may see a difference, but that's not a real-world scenario. And, when you look at the performance benefits, the spec differences may not be as wide. We don't yet have benchmarks for the Moto X Pure, but it has the same SoC (Snapdragon 808) and RAM as the LG G4 and
we have compared that
to the Samsung Galaxy S6 Edge, which has the same Exynos 7 Octa 7420 and RAM as the Note5.
As you can see, the Exynos is definitely better all around, but the differences aren't that stark in many places. And, stock Android devices tend to do a bit better than more heavily skinned devices, so it wouldn't be surprising if the Moto X beat the LG G4 on some benchmarks. Even so, benchmarks are one thing, and real-world use is another, because again, unless you're comparing side-by-side, it's unclear if the Moto X would
feel
that much slower than something like the Note5.
So, that leaves the question: Are the specs and performance benefits of a Samsung Galaxy Note5 worth $300 at full price than the Moto X Pure/Style? Sound off on the poll and in the comments and we'll bring you the results on Monday!