Poll: Do you think Samsung should re-name the Note line going forward?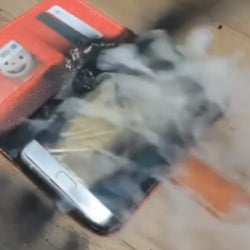 The
Note 7 fiasco
has become so popular, it's impossible to avoid it. It's on every website that is even vaguely related to tech, it's on Facebook, on all humorous imageboards, and it's in the mainstream media. Even people who don't care about smartphones have a vague idea that "there's this expensive phone from Samsung that blows up". Obviously, this is a black spot on Sammy's reputation, which may take a while to wash out.
It's not like the media is going to go ballistic with positive headlines when the next Samsung phone doesn't explode. Titles like "New top-tier Samsung smartphone actually works as intended and does not endanger your health and property" are not supposed to be news, so Sammy will be feeling the repercussions of the "Legend of the flaming Note 7" for years to come. Obviously, some damage control is in order.
But what kind of damage control? Obviously, chances for the Note 7 to return to the market are very, very slim. But will there be a Note 8? Maybe the thought of changing the phone's name is going through Sammy's head right now. On the other hand, that's a pretty tough call, as the Note line has become recognizable and is even well loved amidst Android users (well, prior to going explosive at least). What do you think Samsung should do?