Poll: Apple Watch vs LG Watch Urbane - which one gets the design crown?
95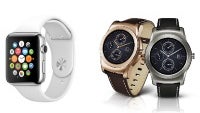 One of today's best surprises is the new
LG Watch Urbane
. We sang its praises before, and we'll sing them again. This thing brings a new level of class to smart wearables! Yes, the Moto 360 looks great as well, but it doesn't make quite the same glamorous fashion statement. Speaking of which, this is exactly what the
Apple Watch
and the LG Watch Urbane want to be - a fashion statement on behalf of the technological industry. Not a wrist computer, not a notifications beeper, not a pedometer with a leather strap. This is tech for fashionistas, and fashion for the techies. It's also the way to go if smartwatches are to make an impact on the mass market. Moto, LG, and Apple know full well that Android Wear or iOS alone won't put their products on people's arms. It is imperative that they are as beautiful as the traditional timekeepers we know and love, which is quite the design and technological challenge.
Right now, we're asking you about the design part only. Which one - Apple or LG - did a better job making its smart-watch look amazing? Vote with your opinion, friends!