Pokemon GO players win the Global Catch Challenge, unlock Legendary Pokemon Ho-Oh for a limited time
4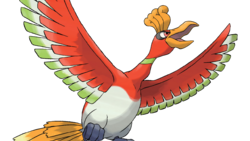 You don't often see Legendary Pokemon show up in Pokemon GO which is one of the reasons that they are, well, Legendary. And while Pokemon GO players are still a few weeks away from the expected Christmas/Chanukah update, Pokemon trainers are getting the opportunity right now to catch a Legendary bird Pokemon, Ho-Oh. This is for a limited time only. Ho-Oh, who debuted in Pokemon Gold can only be captured during a Raid Battle that you must win. After that, it takes Premier Balls to capture it. And more often than not, it will take you a few tries before you capture it. You only have until December 12th to snag the Legendary Pokemon.
The release of Ho-Oh is the reward that Pokemon GO players were given for meeting Niantic's Global Catch Challenge,
which gave Pokemon trainers the goal of catching 3 billion Pokemon in the week that ended on Saturday
. To make it a bit easier for players to reach the goal, XP gains were doubled and lures lasted for six hours. Pocketmonsters Farfetch'd and Kangaskhan were released in parts of the world where they had never been seen before.
As it turns out, Pokemon GO players were able to capture more than 3 billion Pokemon over the week of the challenge, as noted in this official tweet released the other day.
#PokemonGOtravel
#GlobalCatchChallenge
pic.twitter.com/slGXLg0CNb
— Pokémon GO (@PokemonGoApp) November 26, 2017
Recommended Stories