Pixolor app let's you zoom on individual screen pixels, grab their color code
8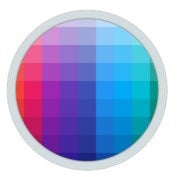 Have you ever wondered what sort of pixels are arranging the exact picture you see on your phone's screen at the moment? Their color code, coordinates, DIP size of the region you are zooming into? Well, now you can completely geek out with the latest Pixolor app.
It lets you zoom on a section of a screen, and reveal to you the exact
pixel
arrangement that makes the element, down to the individual pixel. You can also preview the color code of said dot, their coordinates, and even the nearest Material Design color to the hue in question. You can share a screenshot of the circular image by long-pressing on the thumb, and, as a tangential benefit, zoom in on hard-to-read very small text on a label or sign in a picture, for instance.
Pixolor is thus a dream come true for developers that have been struggling to grab the HEX codes of various hues all around the interface, which is now as easy as circling the Pixolor wagon on top of the section. Check it out if you are a dev, or simply curious what underlying pixels are behind that cool icon pack you just installed.
| | |
| --- | --- |
| Developer: embermitre | Download: Android |
| Category: Tools | Price: Free |