So, which phone do you like more: iPhone XS Max or Pixel 3 XL?
45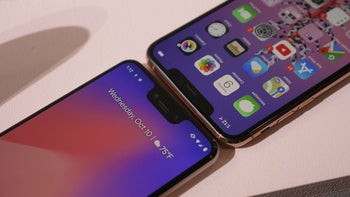 So, two huge companies have already announced their major phones. We are talking about Apple and Google, of course, and their
iPhone XS Max
and
Pixel 3 XL
— the biggest and baddest devices both of these tech behemoths have to offer in 2018. And both of these were controversy generators at the time of launch — Apple's iPhone XS Max starts at $1,100 and tops out at $1,450, which by itself was enough to draw criticism (altho it doesn't look like it's repelling buyers way too much.
Google, on the other hand, was berated for going the "notch" way and did so with a big, bold, and brutally unapologetic cutout at the top of its display. That, too, drew criticism.
Well... the dust has settled, the reviews have been made. The heat from the controversies has dissipated a bit, so it's a good time to ask... Who pulled it off better? If it comes down to these two phones, which one would you buy? Google Pixel 3 XL or Apple iPhone XS Max?