Piper Jaffray survey shows only 2% of iPhone 7 and iPhone 7 Plus buyers switching from Android
46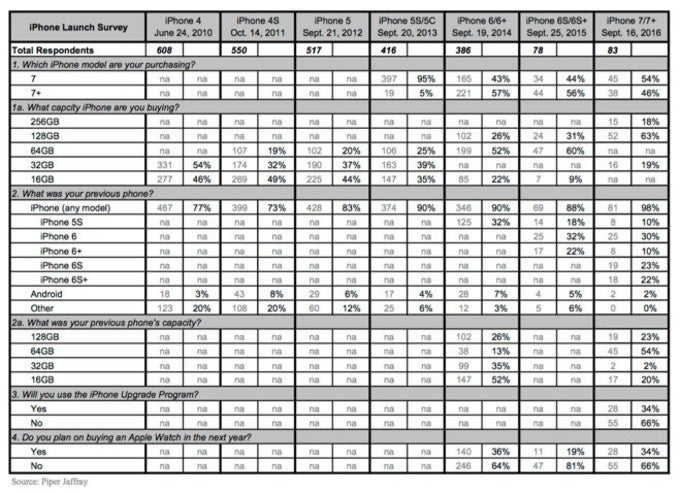 Just 2% of those surveyed are switching from Android to iOS
While certainly not what we would call an extensive survey, brokerage firm Piper Jaffray spoke with 83 people waiting in line to buy a new
Apple iPhone 7
or
Apple iPhone 7 Plus
. From this limited sample, the brokerage firm said that 54% of buyers were looking to purchase the 4.7-inch Apple iPhone 7 while 46% had their sights set on the 5.5-inch Apple iPhone 7 Plus. In 2014 and 2015, buyers surveyed while waiting on line favored the larger 5.5-inch "Plus"-sized iPhone over the regular 4.7-inch version of the handset.
An overwhelming 98% of those surveyed were updating to one of the new iPhone models from an older iOS model. That left just 2% making the switch to iOS from Android. Which is the phone that most buyers are dropping for a new model? That would be the
Apple iPhone 6
, which 30% of those surveyed were using as their daily driver before switching to a new iPhone 7 or iPhone 7 Plus. The next model getting dropped for one of the 2016 iPhone models is the
Apple iPhone 6s
, which 23% of those on line were letting go. Keeping in mind the limited sample size and the lack of certain models on retailer's shelves, 63% will buy the 128GB capacity model of the iPhone 7 or iPhone 7 Plus, with 19% going for 32GB and 18% aiming for the 256GB version.
Only 34% of those asked will purchase an Apple Watch in the year ahead, and the same percentage will sign up for Apple's iPhone upgrade program. Check out the results of this survey starting with the launch of the
Apple iPhone 4
and running to the present. The drop off in survey participants has to do with the increasing number of iPhone buyers pre-ordering their new iPhone model in advance of the launch.
via
AppleInsider