Pink Samsung Galaxy Note makes a debut in Korea today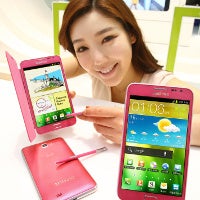 The gigantic Samsung Galaxy Note with its
5.3
-inch display might sound like a monster truck among smartphones that will only scare the ladies, but its sales have been huge. While we don't know the demographics that buy it, now there's one reason why women and pink-loving men can get the handset - yes, the Galaxy Note arrives in pink today in Korea.
The huge phone is pink right down to the bone, aka the S Pen stylus, and of course the back cover and the whole body is painted in the same color.
Now, it's an open question whether pink really would help differentiate the handset to sell it to women. What would concern us more is how the ladies would fit this into their pockets. The pink color also doesn't change the fact that the Note comes with an HD screen and a dual-core processor. What's your take on pink phones? Do we really need them?