Check out these photos allegedly snapped by a Huawei P20 series phone
6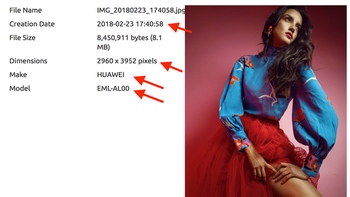 On March 27th, Huawei will unveil its new P20 line
which consists of three models. There is the
Huawei P20
, the
Huawei P20 Lite
and the
Huawei P20 Pro
. The biggest buzz has been reserved for the P20 Pro because of its triple camera setup on back. The P20 and P20 Lite both sport two cameras on back. And speaking of cameras, Exif data reveals a series of photographs that was taken by one of the three P20 models.
We can reach that conclusion because of the EML-AL00 model number of the device that took the pictures. Back in December, a published report said that P20 series had the codename of "Emily," which dovetails with the "EML" prefix of the model number seen in the Efix data. Now whether this particular model is the P20, P20 Lite or P20 Pro is unknown at this point.
No matter how fantastic Huawei's P20 series might be, you won't find any U.S. carriers offering them. The U.S. Government has recently warned its citizens not to purchase Huawei devices for fear that they all carry a back door with a direct line to servers belonging to the Chinese government. You might recall that AT&T and Verizon were set to offer the
Huawei Mate 10
earlier this year
when both carriers abruptly changed their minds
. It doesn't take a conspiracy theorist to see that someone in the Trump administration whispered in some executives' ears at the nation's two largest wireless carriers,
and put the kibosh on both deals
.
Keep in mind that Exif data can be faked. Having said that, check out the leaked photos by clicking on the slideshow below.
source:
CNET