Pictures of what looks like the first ever Microsoft Lumia leak
33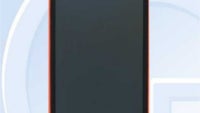 Less than 2 weeks ago, Microsoft announced that it will be
dropping Nokia's name
on its smartphones from now on, branding all Lumia phones with the Microsoft logo, while feature phones and "dumb" phones would still carry the Nokia one. The team from Redmond also noted that the first Lumias to come out with the new branding
will be unveiled "soon"
, but no more information was given.
Today, we get a glimpse of what may be the first Microsoft Lumia device to hit the market. A few pictures were leaked on Weibo (China's social network), claiming to show a device named RM-1090, which has passed MIIT certification for distribution in China.
It is obviously an entry-level handset, perhaps one of the
Lumia 530
's class, with an added flash on the back and face cam on the front – maybe Microsoft plans to do what it did with the Lumia
520
and
525
– both devices were released a few months apart from each other, and the 525 is only an incremental upgrade over the 520.
Looking at the pictures, one can confirm (assuming they are authentic) that Microsoft does not intend to change anything about the design language of the Lumias, other than the logo. As far as what hardware these new handsets will have under the hood – we've absolutely no clue at the moment. Keeping our ear to the ground for more rumors or, who knows, a Microsoft announcement maybe.