Pictures of the Motorola DROID 3 leak, reveal front-facing camera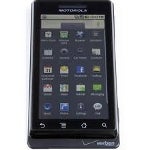 With all of the
talk
about the Motorola DROID Bionic, the Targa and the DROID X^2, the Motorola DROID 3 has been
conspicuous
by its absence. But today, a picture of the phone was leaked. Actually, what was photographed was screen and top half kits by a OEM parts retailer called Global Redirects Parts.
The parts retailer might have made a
slip-up
when it mistakenly called the phone in the photo the Motorola Targa. As you know, the Targa-quite possibly to be
named the DROID Bionic before launch
-bares a strong
resemblance
to the DROID X. The code name for the DROID 3 is Solana.
While so far the Motorola DROID 3 does not exist according to Verizon and Motorola, the pictures do
strongly show
a phone that would be everything you would expect the DROID 3 to be with a front-facing camera and a slightly bigger 4 inch screen than the 3.7 inch display from the first two Motorola DROID models.
source:
GlobalDirectParts
via
DroidLife