Pics supposedly of XOOM 2 leak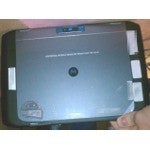 We've been hearing rumors about the XOOM 2 for a while, since the XOOM didn't live up to expectations really. Although, we've also heard rumors of an LTE XOOM and that still hasn't come to pass, so we'll stay a bit skeptical on this one. Droid Life is claiming that they have received exclusive pictures of the XOOM 2, but the pics don't come with a lot of information.
So, this could be the XOOM 2, but it could also be a redesigned LTE XOOM. We'll just have to wait and see.