Pick a case for your Sony Xperia Z Ultra; one has a 4000mAh cell, the other works with your lens cam
6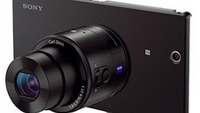 The largest screened smartphone currently available, the
Sony Xperia Z Ultra
, is a beast. But even beasts need protection from butterfingers and concrete. A pair of new cases are now available for the device, one with a 4000mAh battery embedded inside that more than doubles your battery life, and the other with a way to quickly affix the Sony QX10 or QX100 lens cameras to your phablet.
Sony has announced a hard case that protects your Xperia Z Ultra while also making it easier to attach one of the lens cameras to the phone's body. All you need to do is snap the case securely onto the Xperia Z Ultra, and attach the lens to the case. Not only you have perfectly placed the QX10 or QX100 to your handset, you've also protected the phone from dust and scratches. Priced at $30, the case is available for now in Hong Kong only, but should eventually roll out to wherever the humungous handset is available. It is a larger sized version of a similar case that is available for the
Sony Xperia Z
.
Meanwhile, Mugen Power has a case that offers more battery life to Sony Xperia Z Ultra users. Sure, the gigantic handset does feature a 3050mAh cell. But much of that power will be expended just keeping that gigantic screen comfortably lit. That is where Mugen's battery case comes into play as it includes an embedded 4000mAh battery. A button on the bottom allows you to turn the extra power off when you don't need it. But when you do need it, the built in cell offers enough power to recharge the battery that comes with the phablet
"Sony Xperia Z Ultra owners are often reported to complain about short battery life of the device. We worked hard on this project and managed to fit 4000mAh capacity into that new battery case. Our solution gives customers added battery life to stay connected longer and make more with the smartphone than ever before."
-Nikolai Lebedovsky, CEO, Mugen Power Batteries.
The case includes a kickstand and a stylus and is priced at $98.50 directly from Mugen's website.
source:
Mugen
via
AndroidAuthority
Mugen Power Batteries (http://mugen.co), the manufacturer of high-capacity batteries for handheld devices, today announces the new CC-6802 Mugen Power 4000mAh Extended Battery Case for Sony Xperia Z Ultra which extends the time consumers can use this popular device. The battery is immediately available from Mugen Power Batteries with free shipping worldwide.

Designed to provide maximum mobile freedom, Mugen Power 4000mAh Lithium-Polymer battery case extends the life of the Sony Xperia Z Ultra delivering power enough to fully recharge stock battery. This impressive battery performance allows consumers, especially those who are often on the move, to use the device longer. The new battery is fully compatible and fits well on to Sony Xperia Z Ultra.

As well as delivering longer life, the new battery case is also exceptionally reliable. Like other Mugen batteries, the Mugen 4000mAh Extended Battery Case for Sony Xperia Z Ultra has undergone vigorous QA testing to ensure the highest quality and lowest return rate. The battery is also in compliance with the CE requirements.

"Sony Xperia Z Ultra owners are often reported to complain about short battery life of the device. We worked hard on this project and managed to fit 4000mAh capacity into that new battery case. Our solution gives customers added battery life to stay connected longer and make more with the smartphone than ever before," says Nikolai Lebedovsky, CEO at Mugen Power Batteries