Photoshop magic brings a clearer picture of the Samsung Nexus Prime
66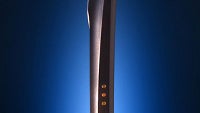 Samsung has promised big. The company teased us with what looks like the
Samsung Nexus Prime
ready for its official unveiling on October 11th, but some crafty Photoshop work reveals the Nexus Prime beforehand. As you probably remember, the handset appeared in an ad, showing off its concave (banana-shaped, if you prefer) body and curved display in a way similar to the Nexus S.
Yet there was a trio of mysterious lights on the right of the phone and except for the well lit center of the device, the rest remained in the dark. Greyhaven7 took on the task to enhance the image and the result looks reveals the rest of what is expected to be the first phone with Ice Cream Sandwhich.
You can see a distinct chin on the lower back, if that indeed is the device's bottom part as it would have been on the similar Nexus S. On the upper back, there's a small hunch, most probably for the camera. Putting the Nexus Prime puzzle together, we should also remember previous whispers about the phone coming with a
4.65" display with a resolution of 720 x 1280 pixels
. And that's all we have so far, but there's less than a week until next Tuesday, so it won't be too much of a wait, would it?