Photoshop 'companion' apps coming to tablets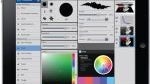 For professionals and hobbyists alike, Adobe Photoshop is an indispensable editing tool.
Adobe
tried to put some of its editing features on its
Photoshop Express
app, but it still didn't feel right. They are now, at least temporarily, changing their focus to companion apps for standard computer-based use of Photoshop.
Their prototypes, tested for the
Apple iPad
and
Samsung Galaxy Tab
, will turn the tablets into secondary screens and touchpad tools to accompany Photoshop. The tablets can serve as drawing surfaces for Photoshop, eliminating the need for a dedicated drawing pad. Much like a dual-monitor setup, the tablet can also free up space on the primary monitor, displaying menu and toolbar options.
In Adobe's demo with CNET, they demonstrated the companion tablets mixing colors, providing a more natural palette-mixing experience than on the monitor itself. The also showed the 'Content Aware Fill,' feature from Photoshop CS5, being used as an app.
This concept doesn't sound like something with the mass appeal of Photoshop Express, but it does sound like a logical combination of tablets and the full version of Photoshop. We might wonder why Adobe didn't pursue this sooner, but they probably feel more confident investing in its development now that the tablet market is expanding beyond the iPad.
source:
CNET
via
Electronista