Apple iPad and MiFi 2200 bundle for Verizon Hands-on
19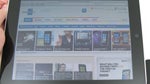 Over the past few years there have been plenty of rumors and speculation that the Apple iPhone would eventually make its way to Verizon Wireless. Even though that may eventually unfold, the iPad is now the first Apple product to be sold by the carrier. Many of you may be thinking "Has Verizon changed the iPad in any way?" The simple answer is "No". This is the same
iPad
that has been out since earlier this year and has not been touched by Verizon in any way.
Verizon is selling different bundles of the iPad, along with their
MiFi 2200
mobile hotspot device. You can purchase the Apple iPad (Wi-Fi model) with either 16GB, 32GB, or 64GB of internal memory along with the MiFi 2200 for $629.99, $729.99, or $829.99 respectfully. (These are also the same prices that AT&T is selling their 3G iPad for, though it has 3G data built into it). When going this route, the iPad connects to the MiFi 2200 over Wi-Fi, and in turn the MiFi 2200 connects to Verizon's EVDO Rev A data network. Because of this, you'll need a data plan, which costs $20 for 1GB a month, $35 for 3GB, $50 for 5GB, and $80 for 10GB a month. Unfortunately, Verizon doesn't offer an unlimited data plan. If this isn't your cup of tea, but you still want an iPad, you can simply purchase it from Verizon without the MiFi 2200 for $499.99 (16GB), $599.99 (32GB), or $699.99 (64GB). But remember that you'll be limiting your internet connection, though no one is stopping you from buying a MiFi 2200 or Global FiveSpot later on.
Since there are no changes to the design of the iPad or to its software, we're not going to cover that here, so you may want to check out our earlier review of the device. What we were curious about is what type of data speed the iPad would get while using the MiFi 2200, opposed to a home broadband Wi-Fi connection. When using the iPad along with the MiFi 2200, we averaged during the day around South FL about 500-800 Kbps for download speed and 300 Kbps for uploads. Then later at night when there is far less network congestion, we were able to get close to 1.2 Mbps for downloads and 720 Kbps for uploads. While these aren't blazing speeds, they are about what we expected, and are fast enough for using the iPad while you're on-the-go. Most basic web sites loaded in under 10 seconds, though more graphically intensive sites, such as PhoneArena.com could take 30-40 seconds to load. We were also able to stream movies via Netflix without any problem, though it did take about 30 seconds to buffer at the beginning, but once the movie started there was no lag or stuttering. Watching clips from YouTube also worked without a hitch. We then connected the iPad via Wi-Fi to our home broadband cable internet, which is rated at 25 Mbps and ran the same test. This time around, the iPad was getting close to 20 Mbps for downloads and 3 Mbps for uploads. Web pages also loaded much faster, even PhoneArena loaded in under 10 seconds. When accessing a movie in Netflix, the beginning buffer only took about 12 seconds before the video started to play.
In all honestly we're not sure why Verizon has started to sell the iPad almost 7 months after its introduction, though it might have something to do with AT&T now selling the iPad with built-in 3G. This may also be a precursor to Verizon selling more Apple products down the line. In any event, we would have preferred this iPad to come with 3G EVDO built into it, instead of requiring the use of the MiFi 2200 that you need to carry around as well, though it is pretty small and fits in a pocket easily. What we'd like to see for the next iteration of the iPad is for it to come equipped with 4G that would use Verizon's LTE network to provide faster data speeds. At this point, the current iPad and MiFi 2200 are an OK bundle if you want to use it on Verizon's 3G network, through you have to carry around two devices, as opposed to a single device with AT&T's 3G iPad.
Recommended Stories