PhoneArena game of the week: WWE Immortals
6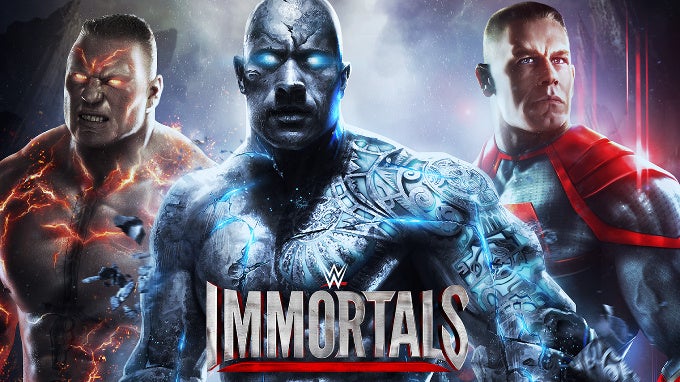 Let's start off the week with some fun! We're kicking off a weekly column that we plan to publish on Mondays to present you with our favorite game of the week. We've set no limits to the genre, platform, or price, but as all things 'favorite', the PhoneArena game of the week choice will be subjective.
One thing that our game of the week pick won't be, though, is of poor quality. We can't guarantee that you'd love the genre of the game we've picked, but it should be a good choice for those who do. And if you disagree with our choice, feel free to express your opinion and give other suggestions in the comments below. We'll consider your thoughts, and even if we don't change our mind, the comments are open for other gamers to draw inspiration from!
With no further ado, the game that gets the honor of being featured this week is Warner Bros.' (makers of Reckless Racing)
WWE Immortals
for Android, iPhone and iPad.
Mortal Kombat fighting style with WWE heroes and signature moves
WWE Immortals is a free-to-play fighting game in the best traditions of Mortal Kombat (MK loyalists might actually be pretty outraged at the level of 'borrowing' here), but all the awesomeness of the characters of the world wrestling championship. Can you smell what The Rock is cooking? He's not the only familiar character you'd see - John Cena, Triple H, Undertaker, Big Show, and many others are included, plus, hopes are that more characters will be added with their signature moves in future updates.
Keep in mind, though, that this game does rely on in-app purchases, which might annoy some of you. For all else, the fighting in WWE Immortals is fierce, with combos, player swaps, and signature moves: all the right ingredients.
Runner-up
We've set the precedent with the
inaugural edition of our Game of the Week selection
, so it's only natural that this week we have a runner-up as well. The brand new
Shadowmatic
for iPhone and iPad sets a new bar for puzzle games with its stunning graphics, a 3D-esque spacious approach to tilting, twisting, rotating of pieces to match them in the perfect shape. With 9 rooms where the puzzles are assembled, you have 9 different environments, each with its own atmosphere and music. Since it might be quite a challenge at first, Shadowmatic comes with an elaborate system of hints to help you not get as stuck as to bang your head against the wall.
The price of the game is set at $2.99, a reasonable cost for the experience spanning over 70 levels.
| | |
| --- | --- |
| Developer: TRIADA Studio | Download: iOS |
| Genre: Puzzle | Price: $2.99 |