Monsters from Asia: This is the phone with the largest battery in the world
18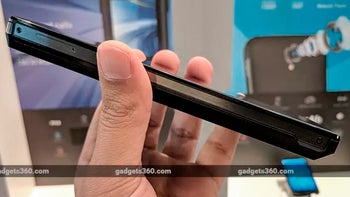 What's the phone with the biggest battery you could name? Your mind is now probably racing through all sensationalist news articles you've read in your life, but how about this: the phone with the biggest battery we've ever seen was announced at this year's MWC trade show in Barcelona.
Having the tongue-twisting name of Energizer Power Max P16K Pro, this brand new Android smartphone has a mind-boggling 16,000mAh battery and is easily the phone with the largest battery we've ever seen. How much is 16,000mAh, exactly? That's more than five times the size of the batteries inside the Galaxy S8/S9 and the iPhone X. Battery life? Pfft, this thing would certainly last you more than a week of moderate usage or more. If you are a lighter user, then the device will most likely exceed your battery-related requirements by a mile - the simple thought of having so much battery juice available beneath your fingertips boggles the mind.
Guess we could say it's more an Android-powered powerbank than a smartphone. We're joking, of course, but it's fact that you could easily find battery banks smaller than the Energizer's 16,000mAh battery unit. Although we couldn't find a confirmation, we highly suspect that the device will be capable of charging other devices from its seemingly endless energy reserves. One more way to become everyone's best friend on a camping trip!
Topping up such a large battery would normally take half a day at least, but fortunately, the device has fast-charging on deck, which should make the wait a little more bearable. Of course, such a prowess comes at a cost: the device is roughly 15mm thick and quite heavy, tipping the scales at 12.34oz (350gr).
Truly, the large battery is the biggest selling point of this device, but what are its other specs? Given the dubious name, you will be forgiven to think that the company behind this intriguing brick will be skimping on specs, but it doesn't look like this is the case. The phone comes with a 5.99" IPS display with a resolution of 1080 by 2160 pixels, a mid-range MediaTek Helio P25 chipset (slightly less powerful than Snapdragon 820), 6GB of RAM, and 128GB of built-in storage.
What's more, you will find four cameras on this phone: two on the front and two at the back. The rear ones are PDAF-enabled 13MP and 16MP ones aided by a dual-tone, dual-LED flash. A 5MP and 13MP front cameras take care of your selfies. A microUSB port (though some outlets report that a USB Type-C port is present), 3.5mm audio jack, and a fingerprint scanner complete the specs list. On the software side, the phone runs Android Oreo.
The device is slated to arrive in India sometime in May, where it will sell at a yet unknown price. As usual, we wouldn't put our money on a wider availability, but one never knows.