Philips W920 is a stylish Android handset, reminds you Philips is still making cell phones
11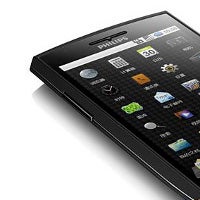 Philips never made it big in the cell phone market, but the brand stayed active releasing cell phones every now and then, and this here
Philips W920
has some chance to actually cling. It has a stylish design with the body painted in classy black and golden yellow. It's not among the slimmest or lightest though with a profile measuring at 0.47" (12mm) and weight of 6.35 ounces (180g). Spec-wise, it seems on par with most mid range Androids: a 4.3-inch screen with a resolution of 480x800 pixels and a 5-megapixel auto-focus camera are its main highlights.
It does however run on the dated Qualcomm Snapdragon S1 QSD8250 clocked at 1GHz and paired with 512MB of RAM, and comes pre-loaded with Android 2.2 Froyo, a reminiscence of days passed now that most handsets come with Gingerbread, and we're looking forward to Ice Cream Sandwich devices.
Internal memory stands at 120MB but the handset offers a microSD card slot for memory expansion. When it comes to connectivity, the Philips W920 supports 3G speeds. Now, this is definitely not a high-end offering, but if Philips manages to get the pricing right, it could turn out to be a good offering in the mid-range segment. How do you like the new W920?
Images courtesy of PC Home, CNMO.