Peek behind LG Nexus 4 back cover shows replaceable battery
16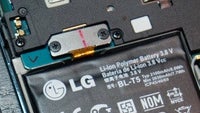 Although tons of
LG Nexus 4 photos
were circulating online weeks before the smartphone's announcement, this has to be the first time we get to take a look at its insides. And now that we know what the situation is behind the device's back cover, we have both good and bad news to report.
The good news is that the battery – a 2,100mAh lithium ion polymer cell made by LG, can be replaced. The bad news, however, is that you won't be able to do that on the fly. That's because the cable connecting the battery to the circuit board is held by a couple of screws. Moreover, removing the smartphone's back cover also requires the use of a screwdriver as a pair of torx screws are holding the plate in place. As a side note, the antennas for Wi-Fi, GPS, and cellular connectivity are embedded in the back plate.
So yeah, the LG Nexus 4 battery can be replaced if needed. For example, if its performance drops significantly over time, one can pop in a brand new cell. However, doing so would require a bit of tinkering, yet nothing that can't be done at home with tools available at your local hardware store. Of course, if you aren't confident in your skills, seeking help from a professional is advisable.
Thanks for sending this in!
source:
ComedyMonger
(Reddit); Images taken by @nerdtalker from Anandtech