Pebble updates watch firmware and its iOS/Android apps to add new health and fitness features
1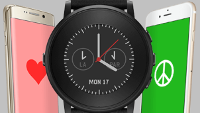 If you own a Pebble smartwatch, you now have the ability to add a number of new health and fitness features to the timepiece thanks to the version 3.12 firmware update. If you own a Pebble Time-series watch, long walks and runs are now automatically detected and tracked. Once you are done with the activity, a detailed summary, including a graph, is sent to your watch to analyze.
A new feature called Smart Alarms makes sure that you wake up every morning refreshed, by sounding a light alarm up to 30 minutes before your set wake up time once light sleep is detected. Following the update, summaries of the number of steps you've taken, and the amount of sleep you've had will appear on your Pebble timepiece.
Two texting features that were available for Pebble users running Android, are now available for those paired with iOS. The first is
Send Text,
which lets you send a pre-written response or voice note from your Pebble to a recent or favorite contact. The second feature is
Incoming Calls,
which responds to a phone call with a canned response or voice note. Send Text is available on Pebble Time-series models only, and you must have a carrier that supports the service. Incoming Calls will work on all Pebble models that are connected to a carrier that supports text replies.
The iOS and Android apps that work with the Pebble Time-series will now come with a new Health tab that includes interactive charts showing the amount of steps you've taken in a day, and the amount of sleep you've had. Other charts keep track of running, naps and long walks that you've completed during the day. Those with a Pebble watch should update their app from the appropriate app store. Besides the new features, the update eliminates bugs and improves performance of the app and watch.
Click on the sourcelink to see the changelist from the firmware and app updates.
source:
Pebble
via
Phonescoop