Patent confirms under-display FaceID will change the way the Dynamic Island looks
5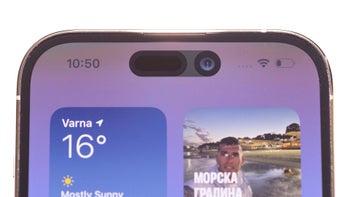 This year, we saw the biggest gap between iPhones of the same generation. Inferior screens, year-old processors and a notch made the vanilla
iPhone 14
and
iPhone 14 Plus
pale in comparison to their high-end
iPhone 14 Pro
and
iPhone 14 Pro Max
counterparts.
Arguably the biggest new feature (and selling point) of the new ultra-premium iPhone models comes in the form of the Dynamic Island. The new cutout not only changes the 5-year-old notched design first introduced with the
iPhone X
, but also paves the way for a new way of multi-tasking, something the iPhone has historically struggled with.
However, it seems that the new design might be going away very soon. A patent, first spotted by Patently Apple in an
article
that was subsequently covered by
MacRumors
, gives insight into how
Apple
will be handling the Dynamic Island in the near future.
According to the patent, the Cupertino company is working on a way of implementing under-display Face ID, though a technology that could enable selective activation and deactivation of individual pixels. In essence, the portion of the display immediately above the FaceID sensors will be opaque under normal circumstances and partially transparent when input of biometric information is necessary.
It should be noted that the FaceID sensors make up only a portion of the Dynamic Island. The camera cutout is here to stay for the time being. This means that as soon as 2024, the iPhone 16 could feature a smaller version of the current Dynamic Island, just as the
iPhone 13 Pro
introduced a smaller notch.
It goes without saying that Apple's ultimate goal is an iPhone with a seamless edge-to-edge display. We are not entirely certain how long it will take for such a device to materialize. Even now some manufacturers are experimenting with under-display selfie cameras, with various degrees of success. But you know what they say - Apple embodies execution, not innovation.