Paper is a beautiful way to get the news Facebook wants you to see
This article may contain personal views and opinion from the author.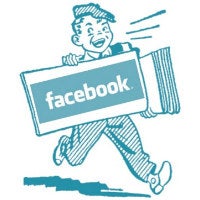 We have been hearing rumors for a while about Facebook working on a new app called "Paper", which was rumored to be something of a news reader similar to Flipboard or Instapaper. Instead, Paper has turned out to basically be a Facebook app that just doesn't look or feel anything like Facebook, which actually could be one of the best ideas ever.
Facebook's new
Paper
app is an incredibly strange experience for a number of reasons. First of all, it is beautifully designed, which is something that might not have ever been said about a Facebook app in the history of the company. The other very strange thing about the app is that it is very much inspired by newspapers, which is a fact that has its pros and its cons.
Of course, that brings us to the absolute worst part about the app: the restrictions. Paper is only available for iPhone users running iOS 7 in the United States. That's it. No international and Facebook has said that there aren't even
plans
to build an Android version of the app yet. The excuse for this is that the team that created Paper is fairly small, and they had much more experience with iOS, but that feels like a cop out from a company with the resources of Facebook. Getting into the app itself though, you'll notice that there are quite a few restrictions in the functionality of the app as well. This is a completely new Facebook experience; but, it is not a customizable experience.
A joy to use...
When you first open up the app, you are treated to the same
intro video
that we've posted a couple of times now. It then gives you a brief overview of how the app works before letting you in to play around. As you try to figure out the new ways of navigating the app, there will be some more helper tutorials sprinkled around, but for the most part they aren't all that necessary. The interface may be lacking in visual cues, but it is fairly easy to figure out the gesture controls. Swiping left and right cycles through your content sections or the posts within a section, swiping up on a post expands it, and swiping up again on a
Because this is iOS, the only way you'll be able to use the app to share a picture will be by starting within the app itself, but because the posting option is hidden away, you will get the distinct feeling that the primary purpose of this version of Facebook is not in sharing, but in consuming. And, consuming is an absolute joy in this app. The gesture controls are quick and responsive, the animations are well done and subtle, the various sounds work well in their limited capacity, and the app feels very modern overall. As far as content, you have your standard Facebook feed which is simply a redesigned version of what you'd find in the other Facebook app; but, the key is that Facebook has also added in about 20 content "sections" that you can choose to add to your digest.
These new sections are a completely new way to interact with Facebook, except that you almost aren't really interacting with Facebook when using these options. The ~20 sections are split into various categories like Headlines, Tech, Score, Planet, Pop Life, and Ideas. Each category has a theme, but at first glance they aren't always readily apparent. Right now, there are only about 40 content providers that Facebook is using to populate these categories with posts, but eventually it will be pulling content from all over its network both algorithmically and based on the whims of a human editorial team.
...as long as you don't want control
That's not necessarily a bad thing. We can all benefit from getting out of our echo chambers and getting information from a wider array of sources. However, if the news isn't found to be interesting to the reader, the usefulness and engagement that this app will get will drop pretty quickly. You would think that an easy way to remedy this would be to either allow for custom sections or to tailor content to user likes. We wouldn't expect the first option because that doesn't quite feel at home in this app. But, we certainly hope that sections get at least some automatic personalization eventually.
Because of these restrictions, this is obviously not an app designed for news junkies. This is an app designed for those who already get the majority of their news from Facebook, but maybe want a bit more, and don't want the extra news to get in the way of seeing posts from friends. In that respect, it is a huge departure from the norm for Facebook, which has always been about your friends, your likes, and your chosen content. Paper is all about the content alone.
Twitter/Google envy
In many ways, Paper almost feels like Facebook saying to Twitter and Google, "Don't you wish you'd made this first?" because Paper is exactly how both Facebook rivals want their users to use Twitter and Google+. And frankly, Paper is more the way that Twitter and G+ users want to use those social networks. Paper is why people create Twitter lists and Google+ circles - to follow interesting sources and get cool stories, then like, comment, and reshare the stories that resonate with you. The interesting part is having the human curation element to Paper.
Eventually, Facebook will be serving ads through this app, or at least sponsored posts. But, in the meantime Facebook will be strengthening ties with content providers (something both Twitter and Google would love to do) and proving even more that it is a force to be reckoned with. Statistics have shown that Facebook has been the originator of three times as many link referrals compared to Google over the past year, and products like Paper show that Facebook understands the power it wields in this space.
Conclusion
Paper is being put forward as simply a nice new app that offers a redesigned way to browse your Facebook feed, but the implications of the app are much more far-reaching than that. If Facebook really does double down on being the hub for your news and content (which seems like the most reasonable way for Facebook to keep growing and keep user engagement high), then Paper could mark a sea change in how people use and view Facebook as a product.
As of right now though, Paper is something of a beta test, because of its fairly limited compatibility right now, and because Facebook doesn't seem to have plans to expand that availability any time soon. iPhone users in the U.S. are getting access to a splendid new app, but everyone outside of the U.S. or the
close to 80%
of smartphone users who are on Android are getting left out for now. And, that is really the biggest shame, because Facebook needs help with its brand image, and this app could go a long way in restoring that.