Pandigital Nova $170 Gingerbread tablet up for grabs at BestBuy
8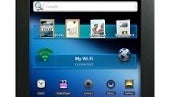 The $170 no-contract price at BestBuy gets you a lot of Android tablet these days, at least in the case of the Pandigital Nova, which seems to be the cheapo Android tablet du jour recently.
Actually BestBuy calls it
Pandigital Nova Digital Reader
, hinting at the lack of Android Market support - you have to load apps from SlideME, or as .APK files.
An 8" "ActiveTouch" display (whatever that is), Android 2.3 Gingerbread, HDMI-out port, and 4Gb of internal memory with microSD slot for expansion are nothing to scoff at for this price. You also get a miniUSB port and two cameras, which might make the 600x800 resolution more bearable.
As with Pandigital's previous slates, the Nova has direct access to the Barnes&Nobles e-book collection. The 8-inch "digital reader" is actually pretty slim at
half an inch
, and weighs 14 ounces, again not too shabby. If you can stomach the fact that there is no official Android Market and other Google Services support, the Pandigital Nova seems like an affordable alternative for the occasional browsing and movie on the couch or while traveling.
The main downside seems to be battery life, which, for the Pandigital Novel predecessor, which has 7" screen, was roughly half of what the iPad 2 is getting, so that's what we can expect here as well.
source:
BestBuy
via
Engadget