Panasonic's smartphone-camera hybrid hits the U.S. market at a cost of $1,000
21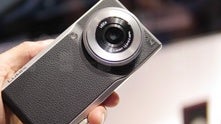 The concept of combining a smartphone with a camera to create a hybrid of sorts, is not a new one. Samsung
has tried it
on a number of occasions, as has Panasonic.
The Lumix 101P
was one of Panasonic's first efforts to bridge the gap between the traditional camera and Android smartphone, and at this year's CES, the company launched the
Lumix DMC-CM1
. Now, the CM1 has finally reached U.S. shores, but if you are in the market for a handset that well and truly captures the moment, it won't come cheap.
As we discussed in
our hands-on
of the Lumix DMC-CM1, it's naturally not as slender as your typical smartphone. While the CM1 has style and will no doubt churn out some great shots and videos, it's not going to be squirrelled away into the pocket as easily as most other devices. For a camera, it's very slim, but for a phone, it's rather bulky.
The one-inch, 20-megapixel sensor is the marquee feature of the Lumix CM1, and is capable of shooting 4K video. The quad-core, 2.3 GHz Qualcomm Snapdragon 801 sits under the hood alongside 2 GB of RAM, and while the processing specs are by no means mind-blowing, the fact that Panasonic hasn't gone in too heavy on the bloatware should keep things running smoothly.
Speaking of software, there is a '4K Photo' app for capturing stills from your 4K clips, along with a further '4K Pre-Burst' app, designed to cleanly capture fast-moving subjects. The fact that there's only 16 GB of storage doesn't exactly warm the heart, particularly since Panasonic wants a cool $1000 for the privilege of owning the Lumix CM1. There is, however, a microSD slot, which will almost certainly need to be utilized when shooting 4K video.
Elsewhere, the display is a 4.7-inch, 1080 x 1920 offering, which equates to a very respectable 469 PPI. The CM1 is also equipped with both Wi-Fi and 4G LTE and while it runs Android 4.4 KitKat out of the box, the OS is upgradeable to Lollipop 5.x.
Check out the gallery, and let us know whether you'd pay $1000 for this device by dropping a comment below.