Meet Palm, the tiny $350 phone that hopes to complement your bigger device
29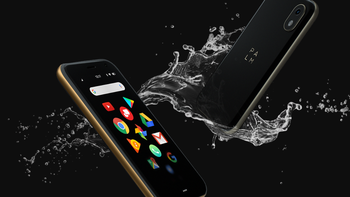 Seven years since we last saw a device, the iconic Palm brand is back with
new owners
,
a new logo
, and a new device which tries to complement regular smartphones.
Palm – yes, that's its name – is a rather tiny offering that has been designed entirely as a companion phone. This would lead many to assume that the smartphone isn't that good but, in actual fact, it boasts some pretty respectable specs that include Qualcomm's
Snapdragon
435 and 3GB of RAM. In addition to this, 32GB of non-expandable storage can be found on the inside along with an 800mAh battery that permits one day of use or three days of standby, and the full Android 8.1 Oreo experience, albeit with a heavily personalized overlay on top, complete with the
Google Assistant
and facial recognition.
Taking a look at the external side of things, the device is made entirely out of Gorilla Glass and aluminum and is backed up by an IP68 water and dust resistance rating. Up front, a small 3.3-inch LCD display complete with a very respectable pixel density of 445ppi is included. This sits just below the in-ear speaker, which also doubles as a regular one, and an 8-megapixel selfie camera. While on the topic of photography, it's worth noting that the rear of the device also features a 12-megapixel sensor that is paired with an LED flash.
Those interested in this credit card-sized device will be able to purchase it exclusively through
Verizon
starting November at a price of $349.99. However, it's not as simple as that. See, because the Palm is designed as a companion device, Verizon customers will only be able to acquire it as an add-on to their current line. This means that, much like smartwatches, it will share the same phone number – the whole idea of the Palm is to reduce dependence on larger devices. In any case, it will be offered in both Titanium and Gold. Also, a variety of cases designed in partnership with NBA star Stephen Curry will go on sale too.
Recommended Stories