Palm Pre plus Palm Pixi plus equals Verizon?
This article contains unofficial information.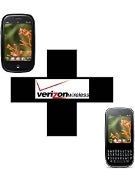 According to a tipster for BGR, Verizon is definitely going to be carrying the Palm Pixi as well as the Palm Pre. The titles will officially be the Palm Pre Plus and the Palm Pixi Plus. Both units will be running on the recently released webOS version
1.3
.5. Despite having the "Plus" tacked on to their names, both devices are expected to be the same size as the models currently sold by Sprint. Verizon has been using code names to refer to the duo with the Pre being called Russell and the Pixi known as the Romo. If this turns out to be true, and Big Red's versions of the Pre and Pixi have the same OS and hardware size as the handsets presently sold by Sprint, we wonder what the "Plus" at the end of both phones' title would be referring to.
Palm Pre Specifications
|
Review
Palm Pixi Specifications
|
Review
source:
BGR