Palm Pre 2 appears on O2's web site
This article contains unofficial information.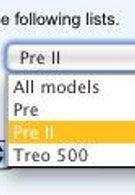 Does O2 know something we don't? Listed on a drop down menu box of handset options, right under the Pre, is the Pre II. The carrier is expected to launch the Pre starting October 16th, but the mention of a sequel unit has everyone interested, excited and confused. And while the Pre II is listed as a handset option, using the search bar on the site comes back with nothing. Considering that the original Palm Pre was launched in the U.S. in early June, you would expect that a follow-up unit would be released no earlier than May or June of 2010. For example, the first-gen version of the BlackBerry Storm was launched last November. While enough video, pictures, and other evidence prove the existence of the Storm2 11 months later, the phone has not even been introduced yet and certainly Verizon does not have the model on its web site as a new phone option. And while one could explain it away as merely a different title for the GSM version of the phone, why is the original Pre also listed in the same menu? It is also possible that the Pre II refers to the upcoming Palm Pixi, which is the manufacturer's second WebOS device. The best answer is that this is probably a listing error, but we would like to hear an explanation from Palm and O2 before the excitement and confusion gets out of hand.
Palm Pre Specifications
(GSM)
source:
Softpedia