Owners report that the Samsung Galaxy Nexus is plagued by random reboots
62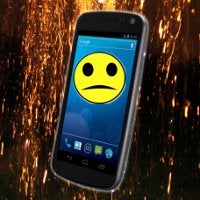 We're not arguing about it, but it must surely be wonderful being the
Samsung Galaxy Nexus
– considering that it's the sole device on the market available right now packing Android 4.0 Ice Cream Sandwich. Being the coveted smartphone it is, we're all going to instinctively watch everything that goes on with it like a hawk, but as we know, it's usually the problems that tend to stick out more than others.
Already, we've reported about the Samsung Galaxy Nexus and its
maddening volume control issue back in November
, but this time around, it seems yet another issue is plaguing the venerable device. Although it apparently seems to be more widespread with the GSM flavored Galaxy Nexus, even Verizon handset owners have recently reported
random reboots
that are causing a lot of frustration. Specifically, they mention that it occurs while streaming music, playing games, or simply when the device is left to do nothing – so it's basically looking to be an erratic issue.
Of course, knowing that the two devices were graced with software updates that brought them up to Android 4.0.2, it does make you wonder if it somehow brought on some sort of unknown bug – then again, it was
meant to squash some previous bugs
. In any event, affected owners also mention that the rebooting problem seems to be more frequent as time goes on.
Thankfully, Google is aware of the issues and pleas from owners, and they're currently in the process of investigating it. So until they come out with some sort of announcement or software update, we'll have to somehow live with this frustration in the meantime. So are any of you experiencing consistent random reboots with your Samsung Galaxy Nexus?
source:
Google
via
BGR