Galaxy Nexus users having issues with volume, media goes crazy
51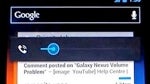 Some Samsung Galaxy Nexus users have been reporting a strange bug in the system that causes volume issues with the handset, and of course that has caused impatient media outlets to claim this issue is to blame for the Nexus not seeing its global release yet. We're as impatient as the next when it comes to wanting the Nexus released, but it seems like a bit of a leap to say this issue is causing the delay.
Users have been reporting that there is a strange bug which causes volume to suddenly drop and sometime go to a full mute on the Galaxy Nexus. Additionally, the phone may become unresponsive for a few seconds. So, the full extent of this problem is having your volume drop for about 10-15 seconds, and you may miss a notification (assuming you also have vibration and LED notifications turned off as well.) Users are also reporting that it may be connected to 2G as it tends to occur when on or switching to a 2G network.
Of course, given the relative minor annoyance of this bug very few have been complaining of it. As of this writing, there have been 184 people who have starred the issue report in the Android forums, and the issue itself is labeled as "medium priority" by Google. Still, just like the iPhone battery bug which affected a minority of people as well, media outlets are taking this bug and blowing it out of proportion.
Many are even saying that this bug is causing the delays in release around the world. (Side note: say what you like, but Google announced a November release. We are now 9 days from the end of November, and we don't even have solid release dates yet. There is a delay somewhere in that process.) We'd hate to think something this minor, which will likely be fixed with an OTA software update, would be the cause of global delays. Especially since the Nexus S was released with a bug casuing random reboots, which is far more troublesome than this.