Over half of U.S. Google Pixel 3 buyers in Q4 switched from this major phone manufacturer
9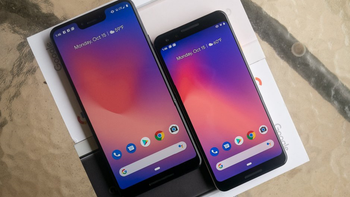 While Google might be happy to see so many Samsung users drop their Galaxy handset for the latest Pixel, in one way the stats could be a disappointment for the company. The Pixel line was partially developed in an attempt to get iOS users to try the Android ecosystem, which is built around the superior
Google Assistant
virtual helper. Overall, 80% of Pixel 3 buyers from last October to the end of the year had already been using an Android phone when they made their purchase.
Counterpoint also crunched similar data for the
OnePlus 6T
and found that 37% of consumers buying the phone were replacing a Samsung model. 16% were switching to OnePlus from the iPhone, and 15% had been using an LG branded handset. Counterpoint Research Analyst Maurice Klaehne said that when the
OnePlus 6T
was launched at T-Mobile, many of the carrier's subscribers upgraded from a
Galaxy J2
and the
Galaxy S7
. 70% of those switching to the OnePlus 6T from an iOS-powered handset had an
iPhone 7
,
iPhone 6
or an older model.
Pixel 3 sales were responsible for 7.3% of Verizon's handset revenue during Q4

However, the analyst says that demand for the OnePlus 6T dropped off during the first quarter of this year. The phone, according to Klaehne, appealed to smartphone fanatics and those who seek value when purchasing a phone. But he points out that Apple and Samsung have cut the prices of their older models to match OnePlus' value-based pricing. In addition, OnePlus does not spend much money to market their devices. As a result, Counterpoint does not see OnePlus growing its market share in the current quarter. During the fourth quarter,
OnePlus was the fifth most popular smartphone brand in the U.S.
according to the International Data Corporation even though it wasn't available in the states during the entire first month of the quarter.
"Both the Pixel and 6T devices show that there is room to innovate in the market. While Samsung and Apple are dwarfing others in size, marketing spends, and consumer perception, there are pockets of users that are still interested in alternatives. OEMs looking to disrupt carrier channels can learn from the successes and failures of these two examples. With 5G at our doorstep, there are additional opportunities to stand out in the market and make a compelling value offering for consumers."-Jeff Fieldhack, Research Director, Counterpoint Research
During the fourth quarter of 2018, the
Pixel 3
and
Pixel 3 XL
accounted for 7.3% of Verizon's handset sales. Among the four major U.S. carriers, only Verizon sells the Pixel 3 line even though the phone is compatible with all four wireless providers. It also can be purchased from retailers like Best Buy and the online Google store. The OnePlus 6T was responsible for 2.4% of T-Mobile's phone sales from October through December. The device is a T-Mobile exclusive.