Outstanding fitness and workout apps for iOS and Android to aid you in your sweaty gym endeavors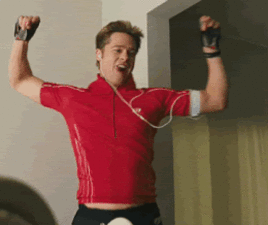 In this day and age, fitness and well-being are one of the unquestionable staples of modern lifestyle. What's more, going to the gym is no longer regarded as an extraordinary part of the everyday lives of select individuals like Arnold Schwarzenegger, Sergio Oliva, Ronnie Coleman, or Dorian Yates, but as mundane and normal as heading out for groceries.
Due to these reasons, it comes to zero surprise that both the App Store and the Play Store are full of apps aiming to help you in the gym. No, they won't deadlift in your stead or make you the next Mr. Olympia, too.
They will help you by showing you new exercises, keeping tabs on your workout routine, or even show you how to correctly perform these essential goblet squats. In case you can call your local gym your second home, you should probably consider downloading some of the apps below.
JEFIT
JEFIT is an app that contains over 1,300 exercises and numerous user-made workout plans, but its most outstanding feature is its ability to keep a log of your gym endeavors. Each exercise is thoroughly described in text and pictures, which makes it quite easy to get the hang of it. After you complete a set, you can input how many reps you made and with what weight (if any) - JEFIT will automatically calculate how much you've lifted and what amount of time you've spent on it. The routine plans are separated by gender and the equipment you have, so the app will suggest different workouts for middle-aged women that opt to workout at home and finely-cut gym fanatics. Finally, you can easily make your own, customized workout plan.
This is a hassle-free app that puts function over form and allows you to log down your workout sessions. It's not among the prettiest workout loggers out there (no Material Design in sight), but once you grow accustomed to its intuitive interface, you will hardly have any gripes with its 2013 looks. The app has a wide selection of exercises for the different parts of the body and will provide you with a concise history of your previous experience, as well as a handy graph, illustrating the evolution of your strength over time.
This app, which is available across both iOS and Android, is an app that will aid you in your gym workouts or cardio sessions, as well as yoga, cardio, weightlifting, running, and others . After a brief setup process determining your body stats and the goals you want to achieve, Workout Trainer will provide you with a hefty amount of program suggestions. A curious feature is the Shakerciser, a slot machine of sorts that will challenge you with a completely random workout. In order to use all of the apps' features and the workout programs in particular, you will need to shell out roughly ten bucks, but it comes with a free seven-day trial to see if the app is worth it.
Workout Trainer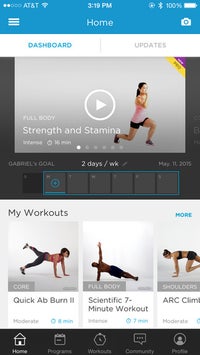 Instant Fitness Trainer
Who needs to go to the gym, anyway? This is totally not the single spot you can exercise; in fact, you can do it just everywhere. This app aims to provide you with a number of ways to workout at home or while on the go, where no equipment is available at hand. There are more 120 curated exercises on board and all of them are tailored to fit in your busy schedule.
MyFitnessPal
Any self-respecting gym fanatic knows that without proper nutrition, you are basically wasting money and time at the gym. That said, tracking your daily calorie intake, regardless whether you're bulking or cutting, is extremely important. MyFitnessPal allows you to do all of this as easy as abc. After you set up your goals, the app will inform you how much calories you need to consume in order to achieve your desired goal. You need to input each and every meal you eat, including all snacks and even the cups of water you've consumed. Fortunately, the app comes with a barcodescanner that will automatically detect the nutritional values. Additionally, the app will keep tabs on your general activity levels throughout the day, calculating the calories you've burned by walking or running (provided that your phone supports such biometric measurements). A must-have.
Lose It!
Similar to MyFitnessPal, Lose It! will keep tabs on your calorie intake throughout the day. However, the focus here is purely weight loss. It's a pretty polished app across both platforms, with an extremely welcoming and intuitive interface that will make you feel at home in no time. You can select among a majority of weight loss plans that will aid in your endeavors. The app provides you with informative graphs of your weight, body fat percentage, body mass index, as well as hydration over time; of course, you will have to input the data yourself.