Our first camera samples from the Motorola DROID Turbo 2 & DROID MAXX 2
6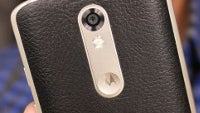 If you haven't noticed, Motorola and Verizon unloaded some big news this morning, announcing its latest DROID smartphones. While the Moto X Pure Edition continues to earn adulation for its incredible worth, the Motorola DROID Turbo 2 and DROID MAXX 2, on the other side, focus their attention on battery life above everything else. Longevity in that department is crucial for many people, but we're sure that people are equally curious about their cameras.
You know what? It looks as though that these two new DROIDs share the same camera gear with one another, a beefy sized 21-megapixel camera on the back paired with f/2.0 aperture lens and dual-LED flashes. Unfortunately, there's no optical image stabilization in either of them. Around the front, meanwhile, they're sporting 5-megapixel cameras for all your selfie needs. Although, it should be noted that the DROID Turbo 2 benefits from having a real LED flash for its front snapper. In addition, it also gets treated to 4K video capture with its rear camera – whereas the DROID MAXX 2 tops out at 1080p.
If the Moto X Pure Edition is any indication, we can expect similar results with these two new DROIDs. Actually, we want more out of them, which means that it'll need to excel under low light to really compete against the best-of-the-best. Still, check out the samples below and tell us what you think so far. Expect our full analysis in our review!