Orders for the newly announced OnePlus 3T are shipping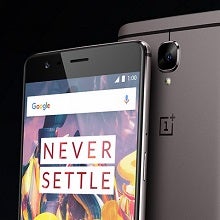 The
OnePlus 3
made
quite an impression with all of us at PhoneArena
, surpassing all-comers to the flagship segment in 2016. Even among the latest crop of devices to come to market in the latter part of the year, the
OnePlus 3
is still no slouch, especially when its price tag was only $399.
More than that however, OnePlus managed a near perfect launch of the device this past summer, without the need for that dreaded invitation system from days' past.
Now, just a couple days after OnePlus started taking orders for the same-but-different
OnePlus 3T
, those that ponied up a small premium to get enhanced cameras, a slightly larger battery, a newer chipset, and a new color, should start receiving emails that their orders have shipped.
This time around, it looks like orders are being fulfilled directly out of Shenzhen, China. As for when your shiny new
OnePlus 3T
will be delivered, you will need to follow the tracking provided in the order section of your OnePlus account. Assuming these shipments are not being sent the fastest express method possible, deliveries should be made within the week.
What do you have to look forward to for a small-ish 10% price bump? The specifications are a subtle, but worthwhile refresh to a near-perfect form factor that landed barely 5 months ago. Those that hooked up with a OnePlus 3 a few months ago should not feel left in the cold, the company is
promising big system updates
to Android 7 Nougat before the end of the year for both devices.
Did you order a OnePlus 3T? Have you received a shipping confirmation yet? Let us know, and let us all hope the packaging does not look like it was put
through the wringer en route
again.
PhoneArena is on Instagram
Follow us to stay updated with fresh news and flashy media from the world of mobile!