Order & Chaos Online for Android Review
11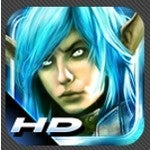 World of Warcraft
on your cell phone? No, you still don't have the massively popular role-playing game, but while a clone is never as good as the original, Order and Chaos Online (O&C) for Android delivers one of the best massively multiplayer online role-playing game (MMORPG) experiences on a handset. Actually, it does the unthinkable by transplanting the unique genre of MMORPG revolving around finding and fulfilling quests to the mobile world -- a small revolution for cell phone gaming as what would require gigabytes of virtual world data and tens of dollars of monthly subscriptions, had been squeezed into less than 600 megabytes and a fraction of the cost.
Order and Chaos Online
costs $6.99
and that includes three months worth of subscription. Every additional month after those expire will cost you 99 cents, but this will buy you plentiful hours of playtime with thousands of other players and a brilliant non-linear game story, all accessible via not only Wi-Fi, but also 3G. But is it any original? Gameloft has copied nearly everything from World of Warcraft – the looks and the feel, but that's more of a good thing for the MMORPG aficionado. The company's biggest contribution is not in originality – it's in the brilliant interpretation of controls which have been fitted to a small screen without sacrificing usability.
Before we dive into the story and all fine detail, though, we have to mention that the game comes for both Android and iOS, but unfortunately Android users have to wait longer for updates. Currently, the Android version stands at 1.0.1, while iOS users enjoy the latest 1.0.2, but hopefully versions will be synced between platforms in the future.
Gameplay, Graphics and Sound:
We've mentioned the copying going on in O&C, and the overall user interface is no exception. Fantasy cartoon-like menus and graphics make you feel right in the realm of humans, elves, orcs and undead. Those are the four races, but
the whole idea of Order and Chaos
has its roots in the dual-deity origins of the races – humans and elves come from the god Order, while Orcs and Undead originate from Chaos. This should bring some tension, but the Chaotic races commence from a slightly different start point and that's virtually the only differentiator. After a couple of levels they end up with everyone else, so don't expect this to get any deeper than that. Your human character can also easily friend orcs and undead, making the whole thing seem mostly superficial.
After selecting your race, you get to pick one of four classes of characters – a warrior, mage, ranger and monk, and off you go. For newbies, pop-up tips shed light on
how to control your character
in the game. We have to reiterate how delighted we were with the controls, which are nearly perfectly adapted to the small screen. Moving your character happens with a virtual analogue stick on the left, while the camera controls are on the right. What's even more important for a game centered around quests and dialogues are the corresponding menus and those are elegantly popping in on top or in a corner so you can easily read the text. Managing equipment is handled similarly well with pop-up menus.
With many plotlines, non-linear story and plenty of virtual world to explore, this game
offers hours of quests and action
. You start building up the skills of your character after s/he reaches level 5 with talent points for abilities. Just as you'd expect, there's already a big community and you can join guilds and easily find a partner. But the game itself is shallower than WoW and doesn't predispose to large raids, which by far and large justify the existence of guilds.
When it comes to the graphics of the virtual world, it's far from the jaw-dropping Infinity Blade, but it does have the
visuals to keep you entertained
and feeling completely immersed in the fantasy virtual world of O&C. You'd sometimes get stuck in walls, but except for that moving around is perfectly fluid, and with the help of the camera controls you'd easily get out of those situations. But what's most remarkable is that unlike other games which run mostly in single-player, O&C manages to support multiple online characters along with in-game creatures without slowing down at all. We should also point out that the world is big.
One of the more annoying additions to the game are
in-app purchases
. While we can definitely understand Gameloft's motivation to add them, it just doesn't make much sense for a game that costs $6.99 and requires a monthly subscription to allow you to get well equipped for $15. It spoils the fun for some players, but ultimately it's down to every single gamer to decide whether he likes the feature or not.
Order & Chaos Online brings MMORPGs to cell phones in a scale comparable to that on a desktop and that's truly a groundbreaking achievement. It's not original, but it skillfully transplants a World-of-Warcraft-esque experience to both Android and iOS. Unfortunately, it doesn't support Honeycomb tablets just yet, but it lists various supported Android phones.
It's far from perfect with our biggest wishes being a deeper involvement with opportunities for raids and constant updates, but it certainly brings more than enough to cover for the $6.99 price tag and if you're looking for an immersive mobile virtual world, O&C won't disappoint.