Oppo's lens smartphone attachment comes with 10x optical zoom, NFC connectivity
24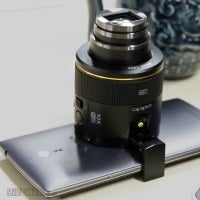 Out of Weibo, we have these photos ofOppo's rumored NFC camera attachment posing on the back of an OppoFind 7. What we're looking at is a lens with 10x optical zoom thatdoesn't attach in front of the phone's camera lens, but is fixed toits back and beams photographs to it through NFC or Wi-Fi. It's notyet clear whether the attachment works with other phones, althoughthere's nothing in these photos to assert the opposite. The module also hasdedicated power and an illuminated on and off key, which further suggests theability to operate independently.
Detachable lens for smartphones are apretty niche accessory, with Sonyand Scheider Optics' iPro Lens's products being the biggest of thefew competitors in this sector. Other vendors, such as Samsung,prefer to release entire cameraphones, such as the upcoming GalaxyK.
Hopefully Oppo will price its lenssensibly, although there's no way it will come cheap.
via GizChina