Oppo teases another smartphone announcement for Oct 29, an alleged 0.157in (4mm) thin device
11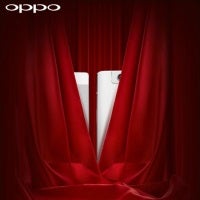 If you've been following the news lately, then you know Oppo is
about to announce its next flagship smartphone
, the Oppo N3, on October 29. The company has been teasing the device, which is the first to sport a
rotating, motorized camera module
, left and right. The latest teaser, published by one of the company's social media accounts, brings an interesting new twist to the scheme. Check out the below photo. Peeking from behind the curtain, to the right of the Oppo N3, which you'll recognize by its rotating camera, stands an all-new, never before heard of phone. Could it be the Oppo N3 Mini?
Well, no one outside of Oppo and its supply chain knows anything certain right now, but there are some crazy rumors going on! According to Chinese website CNBeta, there really is a new phone next to the Oppo N3, and it has "the world's thinnest appearance" at an alleged 0.157in (4mm) at its thinnest point! How much space does that leave for the 3.5mm headphone jack, then?
To give some perspective, today's absolute thinnest smartphone is
the Gionee ELIFE 5.1
, which is really, and certifiably 0.2in (5.1mm) thin. It holds
the Guiness World Record for its incredibly skinny profile
, and for around $325, it's one of the prettiest smartphones you can buy in China.
As the chances of these rumors fulfilling themselves for real seem rather slim, we suggest you take this announcement with a healthy serving of sodium chloride. Gionee's 0.2in (5.1mm) achievement is already insanely thin, and the alleged jump to 0.157in (4mm) seems totally out of whack. Besides, the last time we had some crazy Oppo rumors around, we almost bet the house that
the Oppo Find 7 has a 50MP camera
, only to end up with
a 13MP camera phone
that's able to stitch together separate images into one huge photo. Sheesh!
Who knows, though? Oppo is company with many ideas that doesn't hold innovation back, even if the end product doesn't sell in the tens of millions. If the unannounced partner to the Oppo N3 ends up a more reasonable (0.196) 5mm thin or bigger smartphone, we reckon we'd still be impressed.