Operator leak confirms iPhone 6s pre-orders to start on the 11th, shipments to begin in September
31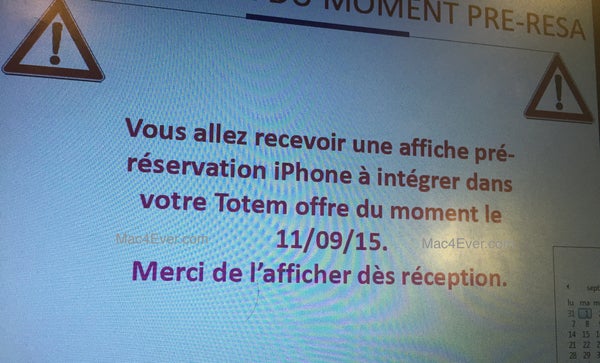 Well folks, August is almost out the door and we can just barely smell all the brand-new tech that is about to be introduced to us in the beginning of September – first, at
the IFA 2015 superconference
, then – at
the Apple event
, which should, as tradition dictates, give us a very first glimpse at the newest iPhone reiteration.
It also seems that it won't be long until you would be able to pre-order an Apple handset – an alleged French carrier has leaked a small piece of information, which claims that pre-orders for the new iPhone will be up on the 11th of September. The source also claims that actual shipments will begin just a week after that – on the 18th.
Should we be excited about the iPhone 6s? Well, there has been quite a bit of buzz about it – some rumors suggest a brand-new, 12 MP camera (finally), others claim that Apple will install the very same Force Touch technology – the one we've seen in the Apple Watch and New MacBook – in its newest handset. And, probably the most believable speculation, is that the iPhone will finally get a RAM upgrade, doubling it to reach the industry-standard of 2 GB. Currently, the only iDevice to rock that amount of random access memory is the
iPad Air 2
, but it seems that this is about to change in 2015.
All in all, if at least a couple of said rumors are true, it seems that the iPhone 6s will address some more of the (admittedly, very few) issues that users are having with Apple's handset, and may just end up pulling even more users
away from Android
in the same way that the large screen of the
iPhone 6
and
6 Plus
did last year.
Thanks for the tip, Arthur!