Great iPhone 6 sales led to a decline in Android's market share across the globe
66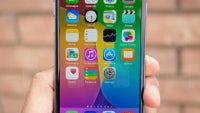 Research by Kantar Worldpanel's comTech arm shows an impressive spike in Apple's share of the smartphone market, specifically around the release of the iPhone 6 and iPhone 6 Plus.
The numbers, representing Kantar's estimates for the 3 months leading up to this past October indicate a steep rise in Apple's popularity across major European markets (Germany, Spain, Italiy, UK, and France) compared with the same period last year – 5.9%, or 20.7% overall. In the same stretch, Android lost 2.6% (down to 69.4%) of its share and Windows Phone's piece of the pie shrank by 1.3% (down to 8.7%).
Not bad at all, but not exactly a mind-blowing jump, right? Especially knowing that Apple only has one major smartphone release per year, meaning that, naturally, fans flock to Apple stores in that particular trimester. Wrong. If you go through Kantar's data from previous years for that same time slot, you'll see that the markets the company tracks have seen far smaller jumps in iOS' share. In comparison, the hike this time around is pretty crazy. For example, in the UK, Apple's share went from 27.5% to just 28.7% in the three months leading to October 2013, while this time around we're looking at an increase from 27.1% to 39.5%. In the US, the iPhone 5s' release last year brought a relatively small increase in share for that same period – from 37.5% to 40.8%. In comparison, this year Apple went from 30.1% (after a steep decline) to 41.5% in the August-October window. Obviously, on the whole, the new iPhones mainly helped Apple regain lost ground in the States, but it is the iPhone 6 that was the main driver behind that growth.
Speaking of the US, Verizon and AT&T took a near equal share of iPhone 6 sales – 42.2% and 41.%, respectively – though Ma Bell sold 63% of all iPhone 6 Plus units in the US. That said, keep in mind that Apple's first phablet, is being outsold by a ratio of 1:3 in the US and 1:4 in the UK, which is consistent with expectations thus far.
You can make use of the embedded data visualization tool below yourself, but the point here is that the jump in display size with the iPhone 6 and 6 Plus has served Apple very well in terms of sales – 49% of folks that bought one of the new iPhones listed it as a top reason. All of this gets you thinking, what if Apple transitioned to larger-screened devices a year or two earlier?