Only in Japan: KDDI's INFOBAR C01 is a unique big-buttoned and colorful Android phone
10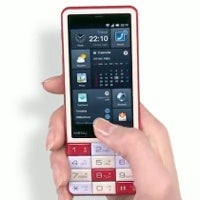 We've always looked up to
Japan
- not because the phones out there are always the most practical ones, but because of how bold and different their design is. Everytime we look at the newest arrivals for Japanese carriers we end up surprised - and this time Japan's KDDI didn't leave us without some bedazzlement either.
The
INFOBAR C01
is probably the most colorful of the five new handsets for the Japanese carrier. It's an Android smartphone in a weird elongated feature phone body - what we mean is that it comes with a keypad you usually only see on feature phones. It also runs Gingerbread with a unique UI. Here are the rest of the specs:
3.2-inch screen with 480x854 pixel resolution
Android 2.3 Gingerbread
8MP CMOS camera
digital TV tuner, e-wallet, infrared
USB, microSDHC ports
Bluetooth 3.0+EDR
0.47" (12.3mm) thick, 3.74 oz (106g)
The KDDI INFOBAR C01 comes from another dimension - but is that weirdness something that you'd appreciate or is it just an exotic piece of hardware you'd rather only look at?