OnePlus says the OnePlus 2 offers "features that won't be available on other devices until Android M"
26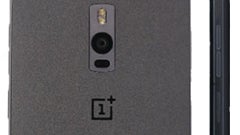 Not long ago, OnePlus said that its upcoming
OnePlus 2
smartphone would be a "
2016 flagship killer
," despite the fact that the handset is going to be launched this year. Now, the company is reassuring us that "2016" wasn't a typo.
OnePlus says that it didn't create the OnePlus 2 to compete with 2015 flagships, instead being "more interested in looking further into the future." One of the things that, according to OnePlus, is making its new handset future-proof is OxygenOS (based on Android). Reportedly, the new version of this custom OS offers "features that won't be available on other devices until Android M." What OnePlus seems to be forgetting is that Google is expected to
launch high-end Android M-based Nexus handsets
later this year, and we'll probably also see Android M smartphones released by other companies before the year's end. This means that, despite what OnePlus is enthusiastically believing, the OnePlus 2 will actually compete with some of this year's high-end smartphones.
As a reminder, OnePlus already revealed various specs of the OnePlus 2, including an octa-core Snapdragon 810 processor, 4 GB of RAM, a USB Type-C connector, a 3300 mAh battery, and a fingerprint scanner touted as being "faster" than the sensor Apple is using on its iPhones.
Despite all the hype and all the available information about the OnePlus 2, it's obviously still early to properly judge the new handset - even if
photos of it have already showed up in China
. We do expect the OnePlus 2 to be a very good phone, but it remains to be seen if it can indeed compete with the flagships of next year.
The OnePlus 2 will be officially unveiled next week,
on July 27
.
source:
OnePlus
Recommended Stories