OnePlus co-founder says touch input lag has finally been fixed, alert slider about to get tweaked?
10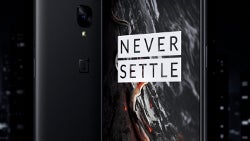 OnePlus sure makes great bang-for-the-buck devices. The original Flagship Killer — the
OnePlus One
— was a great performer and awesome all-rounder for half the price of its competitors at the time; the
OnePlus 2
was
a bit of a let-down
; but the
OnePlus 3
and consecutive
OnePlus 3T
knocked it out of the park
with design materials, camera, and hardware, while maintaining a very accessible price, at $439. Of course, nothing in this world is perfect, and despite being pretty good devices, OnePlus' phones are still plagued by a few issues, which can annoy the tech heads out there.
One such issue is the infamous
touch input latency
. Probably not felt by the average user, this is usually a pet peeve of the smartphone aficionado used to handling top-tier hardware for hours on end, punching in hundreds of characters daily. Basically, there is a tiny delay between the user touching a point on the phone's screen and the phone reacting — this is most noticeable when typing on the virtual keyboard.
Well, OnePlus co-founder Carl Pei has just posted a teasing tweet, suggesting that input latency may be gone soon. Seen below, the tweet appears to say "Touch latency – check; Alert Slider – working on it" (we are still perfecting our emoji transcription skills).

So, we suppose this refers to an upcoming patch, though, we've no clue on when it might be pushed out.
About the Alert Slider thing — OnePlus' phones are still the only Android handsets that incorporate a physical switch on the side, which allows the user to quickly and easily put the phone in a Do Not Disturbed mode, much like how the iPhone's mute switch works. It's an amazingly convenient feature and we are still a bit frustrated that it's not adopted by a wider range of phone manufacturers.
OnePlus fans have been begging for a more customizable Alert Slider for a while now — there are even 3rd party apps developed specifically for those phones, to help users tailor the Alert Slider's 3 positions to their exact needs. It seems like OnePlus may be baking such customization into the software for the next patch. Neat!