OnePlus One is currently sold "at a loss" in Europe, prices will be increased next week
17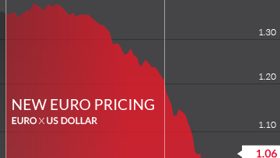 OnePlus today announced that, starting next week,
its One smartphone
will be more expensive in Europe. That's because, "due to the current value of the Euro", the company is "now selling devices at a loss" in EU.
At the moment, you can get the OnePlus One 16 GB for €269 in Europe, while the 64 GB version can be bought for €299. Starting March 25, prices will go up to €299 and €349, respectively. That's not a huge increase in price, but OnePlus still thought it would be a good idea to announce customers about it.
OnePlus One
prices won't be increased in other parts of the world. Moreover, OnePlus says it won't increase the prices of its accessories, no matter where you're buying them from.
While the OnePlus One will soon be 1 year old, it's still a great device for the money you're paying for it, even with the upcoming higher prices. You should check out our
OnePlus One review
to find out more about the handset (which was released in 2014 as a "flagship killer").
Later this year, OnePlus will launch
a new One smartphone
, which will likely also offer lots of high-end features at an accessible price.
source:
OnePlus