OnePlus One to get Lollipop update by the end of March, owners get to choose between Oxygen and Cyanogen
22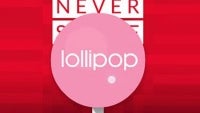 Been waiting for the Lollipop update to grace your OnePlus One? Your woes are coming to their end, friends! OnePlus announced that the update will hit its play-hard-to-get smartphones by the end of March. Staying true to its knack for unorthodox promotion, the company promises to give away five 64GB smartphones if it fails to deliver the update on time.
Additionally, OnePlus One owners are getting to choose between the company's own Lollipop-based OxygenOS ROM, which will get released before or on March 27, and CyanogenMod 12S, which will follow on March 30. So that's two options to update in the span of two weeks. Not too shabby!
But what kept OnePlus One from giving out the update earlier? Well, In its announcement for the update, the company gives some believable reasons for the delay. Making the jump to Lollipop saw an unforeseen OS signing issue, rebuilding the camera app for compatibility, and crucial driver updates. Hopefully, all that has been dealt with by now, and OnePlus One owners will enjoy a fantastic update.
source:
OnePlus
via
Android Central