OnePlus 7 & 7 Pro detailed extensively: storage, battery, cameras, colors, much more
21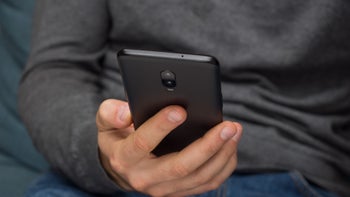 The
OnePlus 7
and OnePlus
7 Pro
are still over half a month away but that isn't stopping them from grabbing headlines. Earlier today, the OnePlus 7's
T-Mobile release date
was seemingly revealed. Then, CEO Pete Lau admitted that the OnePlus 7 Pro's display cost
three times more to develop
than usual. And now, tipster Max J. is back with his
latest leak
that details both the OnePlus 7 and OnePlus 7 Pro extensively.
The OnePlus 7 – cameras, battery, storage...
As revealed by a
set of renders
last week, the OnePlus 7 will follow in the OnePlus 6T's footsteps by adopting a 6.4-inch notched AMOLED display. This will retain the 19.5:9 aspect ratio and 2340 x 1080p resolution seen previously, suggesting the panel will bring no major improvements.
Accompanying the display will be an in-display fingerprint scanner that is expected to be of the optical variety rather than the quicker and more precise ultrasonic alternative found inside the
Galaxy S10
.

Also paired with this should be a 3,700mAh battery much like the OnePlus 6T that precedes it. Earlier today this was rumored to support 30W fast charging but it now seems as though the OnePlus 7 will support the standard 20W Warp Charge technology.

Elsewhere on the spec sheet, today's leak points towards Qualcomm's Snapdragon 855 paired with a minimum of 6GB of RAM and 128GB of storage. However, in order to satisfy consumer needs, a variant with 8GB of RAM and 256GB of non-expandable storage is tipped.
Lastly,
as revealed previously
, the OnePlus 7 will sport a primary 48-megapixel camera that sports an f/1.7 resolution. Earlier, an unconfirmed source suggested this would be accompanied by a 24-megapixel camera, but Max J. believes it'll actually sit alongside a dedicated depth sensor that boasts a 5-megapixel resolution. Also expected is a 16-megapixel selfie camera.
The OnePlus 7 Pro – cameras, battery, storage...


Like the OnePlus 7,
the OnePlus 7 Pro
will also sport a 19.5:9 AMOLED display. However, this time around it'll sport curved edges, no notch, a 6.7-inch diagonal, and a 3120x1440p resolution. It'll also support a new technology that results in a refresh rate of 90Hz, thus creating a smoother user experience.

As expected, this display will also be paired with an in-screen fingerprint sensor that is presumed to be optical. But in order to compensate the larger display, the OnePlus 7 Pro apparently includes a large 4,000mAh battery that supports the 30W Warp Charge 30 technology.

Over in the camera department, the OnePlus 7 Pro is also set to feature a 48-megapixel primary camera. This time around, though, it'll support a wider f/1.6 aperture for improved low-light photography and both optical and electronic image stabilization (OIS & EIS).

Alongside this sensor, OnePlus 7 Pro buyers can expect to find a 16-megapixel super-wide-angle camera and an 8-megapixel sensor paired with a 3x telephoto zoom lens. In terms of selfies, the smartphone should feature the same 16-megapixel snapper found on the OnePlus 7.

The OnePlus 7 Pro will arrive powered by the high-end Snapdragon 855. This will be paired with a minimum of 6GB of RAM and 128GB of storage, although an option with 8GB of RAM and double the storage is also being prepared. As an added bonus, a variant with 256GB of storage and a whopping 12GB of RAM will apparently be available too.

In all configurations the OnePlus 7 Pro should support the UFS 3.0 storage standard, meaning users can expect a decent increase in day-to-day performance. The main benefit, however, will be that it allows for the recording of videos with higher resolution and higher frames per second, as well as their playback.
OnePlus 7/7 Pro release date, pricing, colors

The OnePlus 7 and OnePlus 7 Pro will go official at an event on May 14th. Sales should kick off globally on May 22nd, but T-Mobile will apparently be selling the OnePlus 7 as soon as the unveiling event finishes.


Pricing for the OnePlus 7 is expected to sit in the region of $579 while the OnePlus 7 Pro could cost $749. The OnePlus 7 Pro 5G, on the other hand, will be available in just a handful of markets and could retail at around $899.


The OnePlus 7 Pro will be available to buy in three colors according to today's leak. These are blue, grey, and brown. It's unclear if the OnePlus 7 will launch in the same finishes.