OnePlus 5T vs Google Pixel 2 XL: first look
30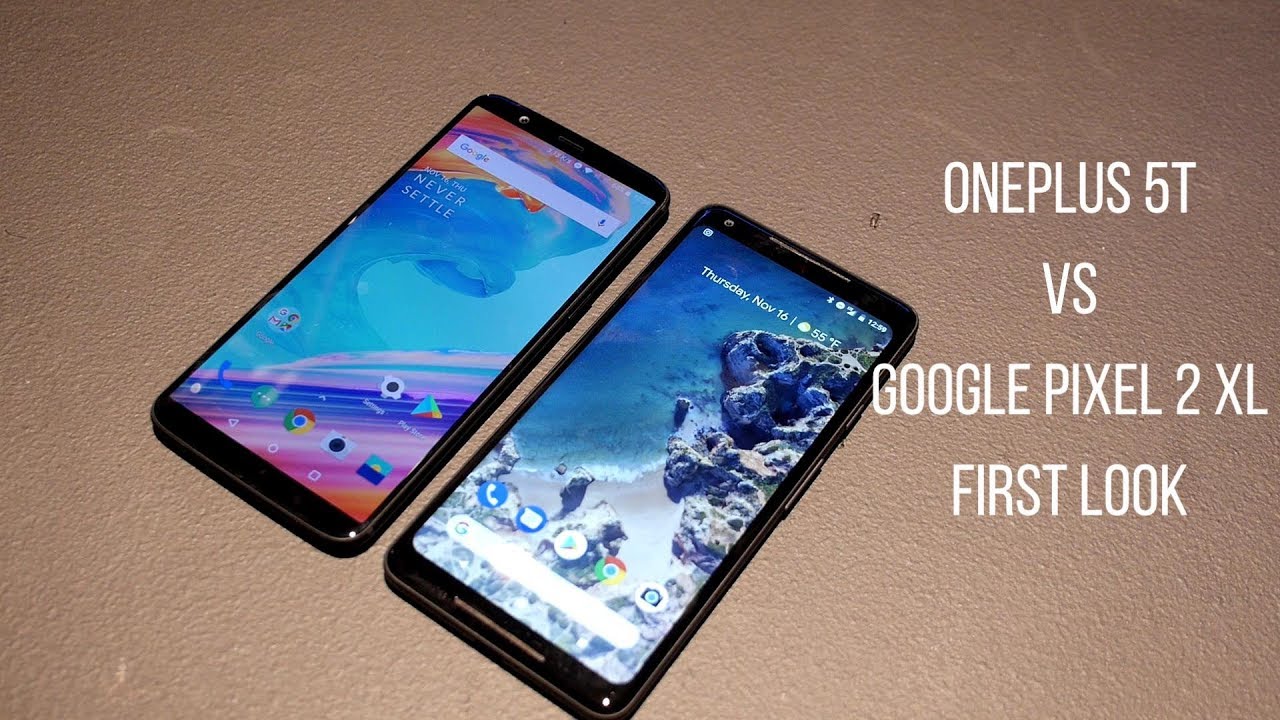 There's an abundance of gems in the Android sphere right now, making it tough at times to uncover the truly great ones from the myriad of darlings that are vying for supremacy this upcoming holiday season. Already, the Google Pixel 2 XL is making a strong case for itself with its amazing camera performance and wholesome Android experience. Equally so, the OnePlus 5T is conjuring up one compelling story as well with its unbeatable price. These two smartphones certainly have a lot behind them, but it'll be interesting to see how they compete against each other for consumer superiority.
Design
Naturally, there are certain characteristics about their designs that'll appeal to individuals. For its low-cost and all, the unibody anodized aluminum construction of the OnePlus 5T is in every facet a premium phone, offering more of that durable feel. In contrast, the Google Pixel 2 XL's mostly metal with a glass accent construction gives it some water-resistance properties, but it simply lacks the cleaner, more uniform look of the OnePlus 5T. While some people won't mind that two-toned look with the rear of the Pixel 2 XL, we find that it breaks up the look of the phone more.
Sharing both USB Type-C connections and rear-planted finger print sensors, we certainly have to give kudos to OnePlus for continuing to offering a headphone jack. It's just a convenient thing to have, whereas with the Pixel 2 XL, you'll need to constantly remember to bring an adapter. When it comes to speakers, though, we appreciate the dual front-firing ones with the Pixel 2 XL – making it more appropriate for watching videos.
Display
Most folks would probably have a difficult time trying to discern any noticeable differences in regards to details superiority with the respective displays. That's because from normal differences, those pixels are packed so tightly against one another – making it almost indistinguishable to tell which one is more detailed. On paper, though, it's the Pixel 2 XL with its 6-inch 1440 x 2880 P-OLED display, versus the OnePlus 5T's 6-inch 1080 x 2160 AMOLED panel.
Despite that, it's tough to dislike either of them, especially given their OLED attributes – like those rich colors they're able to produce. In addition, they both jump on the trend of offering those near bezel-less looks, making them perfect for watching videos and running two apps side-by-side to one another. However, we can say that viewing angles are slightly better with the OnePlus 5T, since it retains more of its clarity.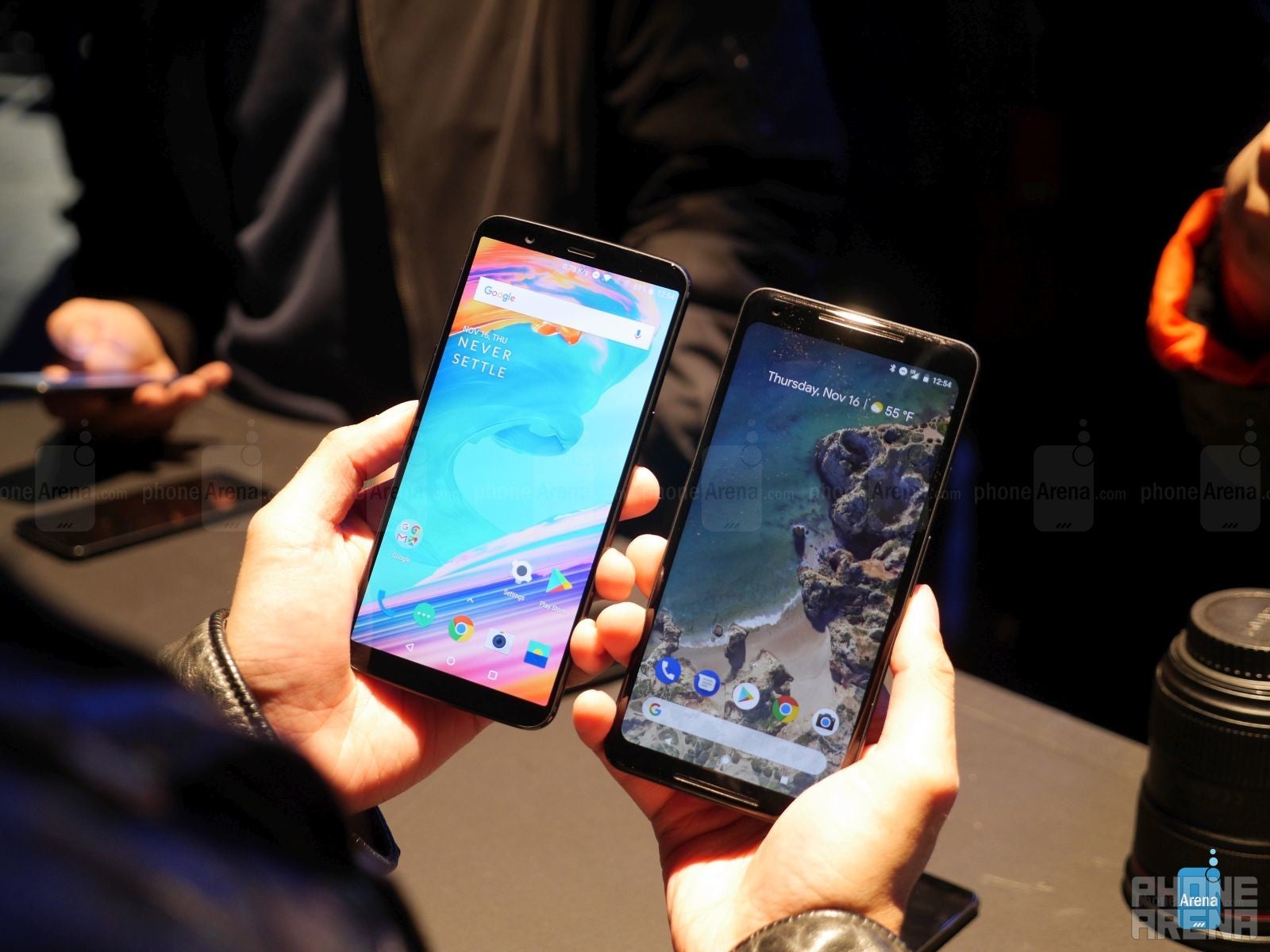 User Interface
Being the Google Pixel 2 XL and all, it has the benefit of providing the most up-to-date Android experience, which in this case is Android 8.0 Oreo. While OnePlus' OxygenOS follows the same clean aesthetics we find with stock Android, purists will still like the fact that the Pixel 2 XL will always sport that true Android experience. And you certainly know that it'll be one of the first to receive the latest updates – whereas with the OnePlus 5T, it might get them in a fair amount of time, but not necessarily as fast as its rival.
Regardless, this is yet again something that personal preference will determine. With the latest version of OxygenOS, it adds some new enhancing features – like a new Face Unlock security and apps "cloning" with its new Parallel Apps feature. As for the Pixel 2 XL, there's always the squeeze function, which for now can launch Google Assistant with a simple squeeze. Is it novel? Absolutely, but we're crossing our fingers that it's opened up to other things.
Processor and Memory
Being stock Android undoubtedly has its benefits, such as being super responsive due to the fact that the processor isn't being throttled by other things. Then again, it's worth pointing out that both handsets leverage the same processor, the Qualcomm Snapdragon 835, but the OnePlus 5T is paired with 6GB of RAM with the 64GB model – or an even more generous 8GB of RAM with the 128GB variant. In contrast, the Pixel 2 XL is available in 64GB and 128GB capacities, but tops out at 4GB of RAM. More RAM doesn't necessarily translate to a superior performance, but it's more comforting to know that the OnePlus 5T has more, while being cheaper in price. Oh yeah, neither phone offers expandable storage!
Camera
If you've been reading a lot about the Google Pixel 2 XL, you know very well that its camera is highly touted. Given how the OnePlus 5T continues the trend of offering a dual-camera implementation, whereby it dual 20MP cameras mainly work together in producing those wicked portrait shots, the Pixel 2 XL's single 12MP camera has proven it can work the same magic as well.
Then again, the OnePlus 5T's dual-camera combo is expected to work better under low light, thanks in part to its new pixel slicing technology and wider aperture of f/1.7, bettering the Pixel 2 XL's aperture of f/1.8. So far, it's just all talk until we're able to take samples using the two phones together! Over on the video side, though, we will point out that the Pixel 2 XL offers optical image stabilizations – whereas with the OnePlus 5T, it does it electronically.
We've raved about the Pixel 2 XL's resounding performance with its camera, which is capable of achieving the same portrait shots that many of these dual-cameras offer, but only with a single camera of course! And that same portrait mode even applies to the front-facing camera! However, it's not available with the OnePlus 5T's front camera.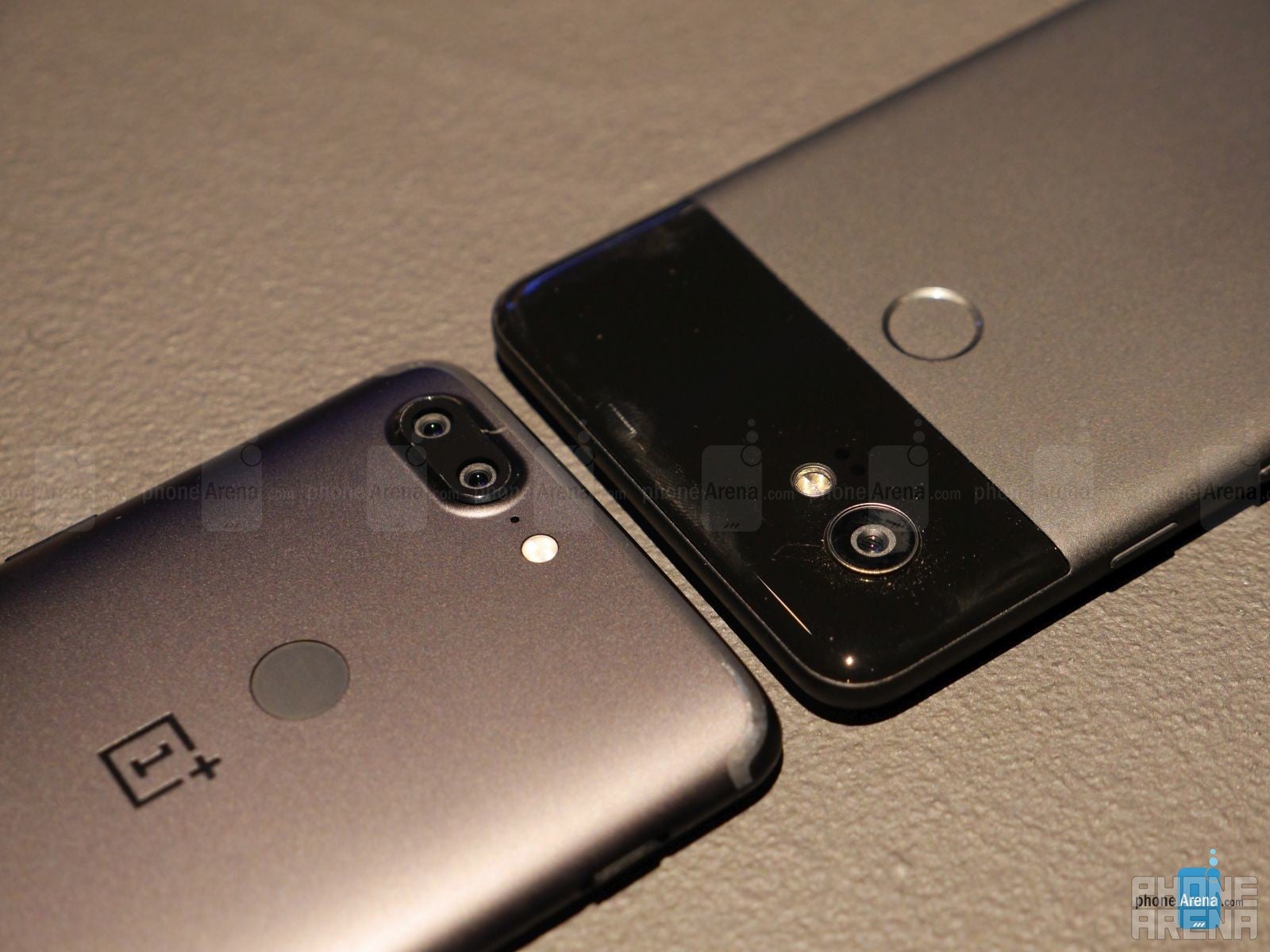 Battery
On paper, the Pixel 2 XL has a slight advantage in the battery department, as it manages to stuff a larger 3520 mAh battery into its frame. Considering that the OnePlus 5T features a lower capacity 3300 mAh battery might, its lower screen resolution might compensate for things. Or who knows, maybe it'll blow out its rival out of the water? Regardless, they both offer their own quick charging technologies, so recharging for a short period of time should give them decent levels.
Expectations
Pricing is going to play a major factor in the decision here! What's truly amazing here is that the OnePlus 5T undercuts its rival with its starting price of $500, significantly less than the $849 starting cost of the Google Pixel 2 XL. That $350 difference will be scrutinized moreover by the fact that the OnePlus 5T features a premium design, the same Snapdragon 835 processor, more RAM, and yes, a headphone jack too!
Then again, the Pixel 2 XL has the benefit of being back by Google, which means it'll get updates substantially faster than most other handsets. So far, Google's offering has proven to be a big hit amongst critics, but it'll be interesting to see how consumers react as we enter the holiday season.
Recommended Stories