New teaser image suggests the OnePlus 5 is smaller than the OnePlus 3T
12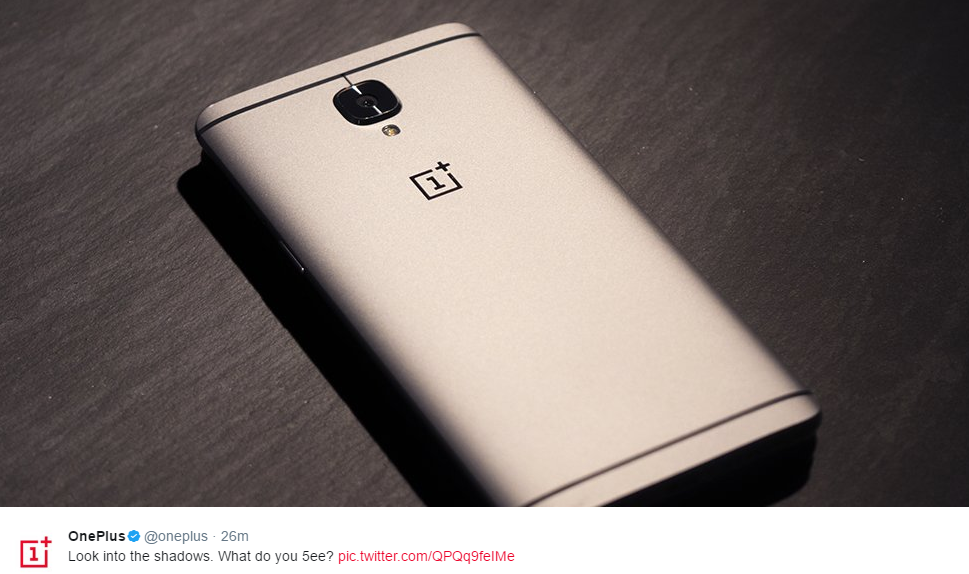 OnePlus just posted a teaser image on Twitter, suggesting that its upcoming
OnePlus 5
smartphone will be smaller than the company's current flagship handset (OnePlus 3T).
The new teaser image - seen above - shows the
OnePlus 3T
on top of another device, while OnePlus says: "Look into the shadows. What do you 5ee?" Obviously, this can only mean that a brand new OnePlus 5 is hiding under that 3T. Unfortunately, the photo was taken is such a way that, even if we tweak the image, we can't really notice anything else about the OnePlus 5 - except for the fact that it's not as tall as the 3T, while having about the same width. The size difference doesn't seem to be significant, which could mean that the OnePlus 5 will still sport a 5.5-inch display (like its predecessor), but with thinner bezels on top and bottom.
Measuring 152.7 x 74.7 x 7.35 mm, the OnePlus 3T is not exactly a compact handset, so we're looking forward to seeing if the OnePlus 5 does indeed pack a similarly-sized display in a smaller body (as we're currently assuming).
The
OnePlus 5 might be released as soon as this month
, possibly for around $450. OnePlus already confirmed that the smartphone would
feature Qualcomm's high-end Snapdragon 835 processor
, a camera made in collaboration with DxO, and a fingerprint scanner on the front. Moreover, OnePlus's CEO suggested that the new handset would
be the company's thinnest flagship phone to date
.
Hopefully, OnePlus doesn't plan to keep us in suspense for too long, and will officially announce its new Android flagship in the coming weeks.
source:
OnePlus
(Twitter)